Vail Symposium presents three-part series on health and wellness in September
The Vail Symposium's Health and Wellness series takes a look at current trends in sports medicine and injuries and how we can keep athletes and people of all ages healthy for life, as well as a look at why some people stay well throughout their lifetime and others fall ill before their time. The programs each feature renowned medical and scientific authorities.
"This series fits perfectly with the goals of our community and those of the Symposium, and it is a very important part of what our valley is about," said Vail Symposium Board member Jamie Stone. "Our goal this year is to give the people in the Valley and visitors from beyond a taste of what is to come on this topic in the future."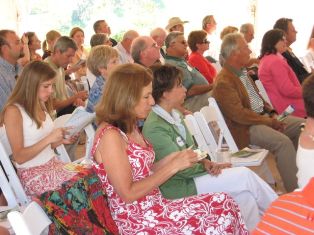 The series kicks off Thursday, September 8 with "Keeping the Body Healthy for Life." In this program Dr. Coen Wijdicks, Dr. David Karli, Dr. Rick Cunningham and moderator Rohn Robbins will explore and discuss breakthroughs in sports medicine and how we can help keep bodies of all ages healthy for life. Coen Wijdicks, Ph.D. is the Director of the Biomechanics Research Department at the Steadman Philippon Research Institute; David Karli, M.D. is a Spine, Rehabilitation and PRP Therapy Specialist at the Steadman Clinic; and Rick Cunningham, M.D., is a Knee and Shoulder Injury and Knee Replacement Specialist at Vail Summit Orthopedics.
"This program hits the core of life in the Vail Valley," said Vail Symposium Board member John Stone. "We're all here to enjoy the mountains, the beauty and an active lifestyle. This program addresses the basics of how our bodies work, and how to keep them active. We live in the healthiest county in the nation, and keeping up with the latest advances in sports medicine and fitness will certainly keep us there."
The series continues on Tuesday, September 13 with a program that is a must-attend for coaches and parents of young athletes. In "Staying in the Game for Life" Peter Millett, M.D. M.Sc., Director of Shoulder Surgery and shoulder, knee and sports medicine specialist at The Steadman Clinic, will speak on how sports injuries among our young athletes have become an epidemic. More than 30 million children and adolescents participate in youth sports in the U.S. each year. It is estimated that more than 3.5 million kids under age 14 receive medical treatment for sports injuries annually, a large majority attributed to overuse.
The series concludes Thursday, September 22 with "The Longevity Project." In 1921, before most of us were born, a remarkable study began tracking the loves and lives of 1500 Americans from childhood to death. The study continues even today, with research teams led by author and distinguished professor Howard Friedman still keeping tabs on the remaining few who are still alive and analyzing massive amounts of data to establish what it is precisely about these 1500 individuals that led some to stay well and others to fall ill or die before their time. A graduate of Yale University (magna cum laude with Honors in psychology), Dr. Friedman was awarded a National Science Foundation graduate fellowship for his doctoral study at Harvard University. He is a thrice-elected Fellow of the American Psychological Association (in Personality and Social Psychology, Health Psychology and in Media Psychology) and an elected Fellow of the American Association for the Advancement of Science (AAAS) and the Society of Behavioral Medicine.
The three programs in this series are not to be missed by anyone living or visiting the region who is interested in staying healthy, well and active for life. Part of the Vail Symposium's mission is to provide affordable programs to the community. As a reflection of that mission the organization is offering the community the opportunity to purchase a ticket package to attend all three of these programs at a highly discounted rate. The package costs only $66, $48 for donors, with a value of $101, $81 for donors.
Each program in this series is being held at the Vail Cascade Resort and Spa. The programs begin at 6:00 p.m., following a reception at 5:30 p.m., tickets per individual program are $37, $27 for Vail Symposium donors. To purchase tickets or for more information please visit www.vailsymposium.org or call 970-476-0954.
---

439 Comments on "Vail Symposium presents three-part series on health and wellness in September"