2015 World Ski Championships volunteer recruitment party set for Sept. 12
The 2015 FIS Alpine World Ski Championships are just under a year and a half away and the Vail Valley wants you...to be a member of Team 2015.
The process of recruiting volunteers for Vail and Beaver Creek's 2015 World Championships will officially kickoff Thursday evening, September 12, from 5-7 p.m. at the Gerald R. Ford Amphitheater, with the first 215 people in the gate receiving a special 2015 commemorative gift. Prize raffles will also be conducted throughout the evening.
In addition to free food and two free drinks, potential volunteers will also have the opportunity to talk to representatives of various 2015 operational areas and committees in order to get a better idea of where they might like to volunteer their time prior to and during the Championships.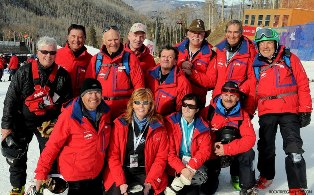 "Volunteers are the life blood of any of our events," explained Ceil Folz, president of the Vail Valley Foundation and president of the 2015 World Championships Organizing Committee, "especially an event with the scope and scale of the 2015 World Championships. We are blessed to have so many people throughout the Vail Valley, around the country and internationally that are so willing to give of their time and talents to ensure that we are able to welcome the world to our community."
By Opening Ceremonies, Team 2015 is expected to number 2,500 strong, with people from all walks of life and all corners of the globe pitching in to staff all areas of the Championships.
"This is the beginning of an incredible journey for all the members of Team 2015," added Cheryl Jensen, Volunteer Committee Chairperson for the 2015 Organizing Committee. "Volunteers are absolutely essential to Vail and Beaver Creek producing the best World Championships on record and the memories of being a volunteer for 2015 will last forever."
"Being a slipper at the 1999 World Championships was really special," offered Olympic champion and Vail resident Lindsey Vonn. "I remember how exciting it was and how excited the valley was to have everyone here. I remember trying to get all the guys' autographs like Hermann Maier and Bode Miller. As a kid, that was one of the most exciting times of my life."
Kickoff Party participants will be able to apply throughout the evening at the Ford Amphitheater, while those unable to attend mayalso apply online at www.vailbeavercreek2015.com. Everyone interested in being considered for a role with Team 2015 will need to complete the volunteer application form, even if they have previously contacted the Organizing Committee about volunteering for the Championships.
Scheduled from February 2-15 of 2015, the FIS Alpine World Ski Championships in Vail and Beaver Creek are expected to showcase athletes from over 70 nations, with an estimated 750 million worldwide television viewers and an onsite media and broadcast entourage of approximately 1,500 members.
For additional information on the volunteer application process for the 2015 FIS Alpine World Ski Championships in Vail and Beaver Creek, visit www.vailbeavercreek2015.comor contact vvfvolunteer@vvf.org.
---

2898 Comments on "2015 World Ski Championships volunteer recruitment party set for Sept. 12"