Vail Recreation District once again hosting Jake Wells cyclocross clinic
The Vail Recreation District is once again partnering with professional cyclocross racer Jake Wells to offer cyclocross clinics for both junior and adult riders on Saturday (8-24) at Maloit Park in Minturn.
The Junior Jake Wells Cyclocross Clinic will take place from 8:30 to noon and the adult clinic will take place from 12:30 to 4 p.m. Clinics are taught by Wells, a Vail Valley resident and American professional racer, who is consistently one of the top cyclocross and mountain bike racers in Colorado. He has finished in the top 15 at both the U.S. Cyclocross and Mountain Bike Marathon National Championships.
According to Wells, cyclocross races consist of many laps, approximately 1.5 to 2 miles each, on a course featuring pavement, wooded trails, grass, steep hills and obstacles requiring the rider to quickly dismount, carry the bike while navigating the obstructions and remount.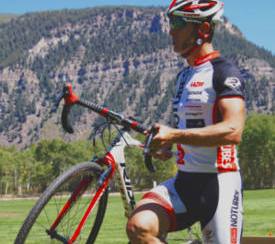 He says the clinics are geared to give participants all the tools needed to enjoy a successful cyclocross race season and are targeted toward beginner, intermediate and advanced cross racers. Both junior clinic participants, ages 10 to 15 years, and adults will enjoy three hours of interactive instruction, on-course training and plenty of practice time.
A participant practices at last year's clinic Wells, who will also design the courses for the VRD's upcoming cyclocross races, says past clinics have been immensely helpful to participants. "Everyone who attended the cyclocross clinics over the last couple of years has shown great improvements in their skill level and abilities," said Wells. "Extending the cycling season here in the high country is the ultimate goal - we have riders here who have proven super successful in their transition from the mountain bike series to the Colorado cyclocross circuit."
In addition to the cyclocross clinics, the VRD will offer two cyclocross races this fall and extend its mountain bike race season into September. On Wednesday, Sept. 4, racers will have the opportunity to compete in the first installment of VRD's first Cyclocross Race Series at Maliot Park in Minturn. The final race will take place Sept. 11 at the Eagle County Fairgrounds in Eagle.
Costs are $130 for adults and $90 for youth, with each clinic participant receiving instruction on equipment, technique and tactics, plus free race entries for the Sept. 4 and Sept. 11 races. Cyclocross bikes are not required for the clinics.
For more information on the clinics, the cyclocross races and registration, call 970-479-2280 or visit www.vailrec.com/sports/mountain-bike-racing/cyclocross.

---

6033 Comments on "Vail Recreation District once again hosting Jake Wells cyclocross clinic"