Cracker closes curtain on free Hot Summer Nights concert series in Vail on Aug. 30
The summer music scene in the Vail Valley will come to a rockin' close Tuesday evening, August 30, as alt-rock icons Cracker bring down the curtain on the 2011 Bud Light Hot Summer Nights concert series with the grand finale free show.
Long-time musical cohorts David Lowery and Johnny Hickman have teamed up once again with drummer Frank Funaro and bassist Sal Maida to create a uniquely eclectic trove of new tunes, found on the band's 2009's Sunrise in the Land of Milk and Honey.Well-worn words to describe their sound are in full-effect on the project that bursts with their trademark rock, punk, glam, surf and country aesthetic.
Surprisingly self-disciplined, the whole band would take time out to write together one week every two months between tours for Sunrise over the course of a year. Focusing on a goal of two songs per day, their individual musical influences combined in refreshing and distinctive ways. On the outside it was a straight-ahead work ethic, but the process resulted in the band clicking creatively with a renewed energy.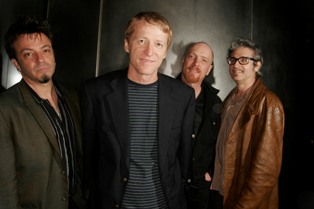 "We weren't kicking back on an island in the Caribbean," said Lowery, "waiting for the muse to hit us. We got down to work, found the punk and glam rock in our blood and woke up to Sunrise in the Land of Milk and Honey."
While the band may be considered a somewhat traditional rock band singer/guitarist Lowery's roots are anything but traditional, ever since fronting the '80s alternative outfit Camper Van Beethoven. Shortly after CVB called it quits in 1990, he began demoing material along with Hickman and bassist Davey Faragher, eventually going by the name Cracker.
By 1991, the newly formed band had signed a recording contract with Virgin, issuing their self-titled debut in 1992, which featured the hits "Happy Birthday to Me" and "Teen Angst" A year later, Cracker released their best-known album, Kerosene Hat, which spawned the popular MTV/rock radio hit "Low", along with "Euro-Trash Girl" and "Get Off This".
The band has been touring continually ever since, releasing 10 studio albums plus several compilations, collaborations and live albums.
The final Bud Light Hot Summer Nights free concert will get underway at 6:30 p.m., with the gates of the Gerald R. Ford Amphitheater open at 5:30 p.m. The August 30 Bud Light Hot Summer Nights of Dance, featuring Cracker, is presented by Pazzo's Pizzeria.
The 2011 Bud Light Hot Summer Nights free concert series is a project of the Vail Valley Foundation. For more information on Hot Summer Nights, visit www.hotsummernightsconcerts.com. For additional information on the Foundation, check out www.vvf.org.
---

47 Comments on "Cracker closes curtain on free Hot Summer Nights concert series in Vail on Aug. 30"