Eagle man looks to revolutionize Internet with truly secure social-networking platform
EAGLE -- From his office here in the Colorado high country, near Vail, it's easy to see why Paul Kulas says we're all living in what he calls a "brave new world."

When he explains how our privacy and security are being put more and more at risk on the Internet every day, however, bravery takes on a whole new meaning. The pitfalls of sharing information online are growing as fast social-networking itself, Kulas says, and they're exacting a heavy price on society.
"That's why we're putting blood, sweat and tears into www.zeldab.com, an entirely new, security-based online platform. It's designed from the ground up to protect its users' privacy," Kulas says. "Most users know they're giving something up when they use a social-networking service, but the deal they think they're making isn't the deal they're getting. Behind the scenes, it's actually much worse than most people can imagine."
Kulas, who's been designing software for two decades, says we're all learning the typical online social-networking model — in which revenue is generated by advertising sales — is creating more problems than benefits. These sites attract spammers, hackers and other predators, he adds, and nothing users post there is private.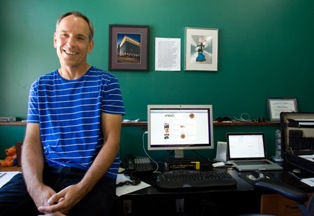 "When you sign up with a social-networking site, you allow them to share whatever you post with anyone they choose," Kulas says. "Not only that, your private information is accessible from outside that site, as well."
At www.zeldab.com, by contrast, Kulas says, there's no gathering and selling information about you, the user, to advertisers; no monitoring your every move; no mandated public profiles that reveal far too much information about you; no hidden terms and conditions specifying that, when you join the community, you're giving them the license to use any content you post however they see fit.
"It's the next evolution in social networking, a new wave of highly interactive collaboration without the 'gotcha' that comes automatically with other online communities," Kulas says.
Despite his technological prowess, Kulas says, he prefers a mountain-friendly, casual approach to doing business, when possible. He named his fledgling tech enterprise, for example, after the family dog, Zelda, a female bullmastiff. The "B," he says, "comes from bees ... because they do good work."
But www.zeldab.com still needs some work before it's ready for the masses, Kulas says. So he's trying a creative strategy for funding the operation, asking for donations of as little as $5. In return, contributors receive tokens of "our profound gratitude," including zeldaB magnets, stickers, lanyards and mouse pads; organic zeldaB cotton tote bags and T-shirts; and, ultimately, a special zeldaB homepage with a "zeldaB Founder" insignia.
"Our minimum goal for contributions is $25,000, so we can move forward in the creation of zeldaB," says Kulas. "The real winner here will be the user. If a small percentage of the people concerned about the inappropriate use of their personal information will pitch in $5 or more, not only will they be safeguarding their own identity, but they'll also be helping protect their friends and colleagues generations to come."
"If we're successful, we believe other entrepreneurs will follow and, in time, the standard on the Internet will be to protect users' privacy.
For more information, visit www. zeldab.com, e-mail info@zeldab.com or call the ZeldaB headquarters in Eagle, Colo., at 1-970-328-0400.

---

1268 Comments on "Eagle man looks to revolutionize Internet with truly secure social-networking platform"