Vail Kids Adventure Race needs volunteers
On Saturday, Aug. 13, children ages six to 12 will navigate an adventure course in Vail Village and on Vail Mountain that will include a mud pit, a low ropes course, a zip line, a giant slope-n-slide, tubing and more during the Vail Recreation District's (VRD) KEEN Kids Adventure Race. Adults who don't want to be left out of the action can join in as volunteers and help with the various obstacles, course marshaling, transition areas and the start and finish lines.
Approximately 30 volunteers are needed to assist with a variety of tasks during the race, which will include assisting and watching the 200 young competitors challenge themselves along the way, says volunteer coordinator Helene Mattison. "We're expecting it to be a great time for everybody - both the kids competing and the adults who are supporting them," said Mattison. "We've hired professionals for jobs that require specialized skills to ensure participant safety, but we need volunteers from the community for the transition areas and check points."
Volunteers are needed from approximately 7 a.m. to 2 p.m. on race day and will be required to attend a short pre-race meeting prior to the event. Volunteers will receive an official event T-shirt and lunch for their time. Mattison, who also has extensive experience in many aspects of adventure racing including managing teams and directing races, is excited to bring the event back for the second summer.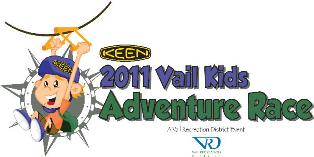 "Adventure Racing is a thrilling sport," said Mattison. "It combines physical and mental challenges, teamwork and good-natured competition - and just as importantly, it's a lot of fun. We're excited to watch the event grow this summer and looking forward to adding more obstacles and fun for the children."

The race, which was designed by Mattison's husband and former adventure racer Billy Mattison, has been received so enthusiastically that registration is almost completely filled. Beth Pappas, race director at the VRD, says she hopes the community's excitement about the event spills over into strong volunteer involvement.
For information about volunteering, contact Helene Mattison at h.mattison@comcast.net or 970-401-3804. To find out more about the race check, out information on the VRD website at www.vailrec.com or call the race director, Beth Pappas at 970.479.2280 ext. 7009.
---

334 Comments on "Vail Kids Adventure Race needs volunteers"