Keb Mo brings the Delta blues to Beaver Creek's Vilar Center
The most requested artist in the history of the Vilar Performing Arts Center will make his triumphant return to the theatre on Thursday evening, August 5, when legendary Delta bluesman Keb'Mo' brings his unique meld of old and new musical styles to Beaver Creek.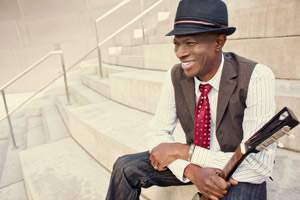 His music is a living link to the seminal Delta blues that traveled up the Mississippi River and across the expanse of America, informing all of its musical roots, before evolving into a universally celebrated art form. For Keb' Mo', the common bond between these influences is the underlying storytelling ethic, the power of song to convey human experience and emotional weight.
The distinctive sound embraces multiple eras and genres, including pop, rock folk and jazz, in which he is well-versed. In total, it owes as much to contemporary music's singer-songwriter movement, including his longtime friends and collaborators Bonnie Raitt and Jackson Browne, as to the spirit of blues godfather Robert Johnson that dwells in his work.
Born Kevin Moore in Compton, California, in 1952, Mo' grew up steeped in the musical traditions that his extended family had brought from the Deep South. He listened to blues recordings and R&B on the local radio station, and heard gospel music every Sunday at the Baptist church his family attended.
By age ten, he was recruited into his school band, where he began on trumpet. But once he discovered the guitar, which his uncle invited him to try, Mo' knew he had found his instrument.
"When I put my hand on the guitar the first time, that was it," he told the Los Angeles Times. "Two weeks later I was playing the guitar, finger-picking and the whole thing. I knew four chords, five chords. I was ready to rock."
Despite his blues heritage, however, Mo' dreamed of success as a pop star. He joined various cover bands after high school, performing Top 40 hits and oldies until one of his bosses suggested that his music lacked a certain something. He was summarily introduced to material with more Caribbean and African sounds, including the music of the Neville Brothers.
In 1973 he joined a blues-rock group headed by Papa John Creach, the former vocalist for Jefferson Starship and Hot Tuna. Mo' stayed with Creach's band for three years, touring steadily and making three albums.
It wasn't until 1990, however, that Mo' got the break that would turn his career around. The casting director for Rabbit Foot, a theater production in Los Angeles, needed an actor who could play a Delta blues musician. So successful was his performance that Mo' was cast in another bluesman role in the play Spunk. These roles led to solo engagements that boosted Mo's popularity.
In 1994 he released his debut album, "Keb' Mo'", which was his new professional name; an African-American version of his given name that he felt would better reflect his blues orientation. The record earned glowing reviews from such publications as the New York Times, People, and the Houston Chronicle, while critics hailed Mo' as an important new voice with both authentic blues roots and a contemporary sound.
Mo' began opening for stars such as Jeff Beck, Carlos Santana, Buddy Guy, Joe Cocker, and George Clinton. In 1996 Mo' released his second album, Just Like You, which won a Grammy Award for Best Contemporary Blues Album--as did his next release, Slow Down, in 1998.
Mo's music could soon be heard everywhere--on radio; on the television series Touched By an Angel and the CBS drama The Promised Land; on several film soundtracks, including One Fine Day, Tin Cup, and Down in the Delta; and on the concert stage, as Mo' shared star billing with such performers as Bonnie Raitt and Celine Dion.
"When I first heard Delta blues," Mo' told Guitar Player Magazine, "it really grabbed me and became my foundation as a player, but it never occurred to me to shut off other things that make me who I am as a musician."
Comfortable with his melding of the old and the new, Mo' has said simply, "I trust my instincts and go with them. It's important to respect the elders and study them, but it's just as important to do your own thing."
Tickets for Keb' Mo' are priced at $58 and are available online at vilarpac.org, by phone at 888.920.ARTS(2787) or in person at the Vilar Center box office in Beaver Creek. Tickets are available online 24 hours a day; the box office is open Monday through Friday from 11am-5pm MST, with additional hours on performance days.
The Vilar Performing Arts Center is a project of the Vail Valley Foundation. For more information on the Vail Valley Foundation, visit www.vvf.org.
---

26 Comments on "Keb Mo brings the Delta blues to Beaver Creek's Vilar Center"