Vail Rec District serves up August kids camps ranging from volleyball to skateboarding to martial arts
The Vail Recreation District's (VRD) youth summer sports camps will continue throughout August offering young sports enthusiast a variety of activities to choose from including martial arts, golf, tennis, volleyball, skateboarding and gymnastics. The TetraBrazil Soccer Camp, scheduled for Aug. 2-6, is full. Camp details are as follows: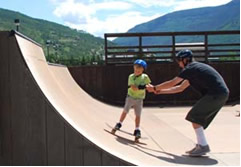 Martial Arts Camps: Aug. 2-6
Ages 5 to 12
Vail Gymnastics Center
This will be the final martial arts camp for the summer and a great opportunity for children ages five to 12 to be introduced to all aspects of martial arts. The camp is for all ability levels and operated by Vail Martial Arts Academy instructor Mathew Bayley. Instruction on all major Japanese, Korean, Chinese and American martial arts, plus include instruction from the national, award-winning Alert Kids Kidnap Prevention Program will be included. Cost is $150. Call 970-949-8121 for details.
New! Junior Tennis Camps: Aug. 2-6 and Aug. 9-13
Ages 5 and Older
Vail Tennis Center
Camps will take place from 1 to 4 p.m. Monday through Friday and costs are $175 for Vail residents and $195 for outside guests. In addition, junior tennis lessons are underway with a ratio of six students per coach. Lessons are from 9 to 10 a.m. for ages five to six, 10 to 11 a.m. for ages seven to nine, 11 a.m. to noon for ages 10 to 12 and noon to 1 p.m. for ages 13 to 17. Costs are $65 per week or $60 per week for consecutive weeks. Registration for tennis camps and lessons is available by calling 970-479-2294.
Vail Golf Club Junior Golf Program: Aug. 3-4
Ages 6 to 17
Vail Golf Club
This is the final program for the Vail Golf Club junior summer program for ages six to 17. Cost is $85. Call 970-479-2260.
New! Rocky Mountain Volleyball Camp: Aug. 12-14
Grades 5 to 12
Dowd Junction Facility (Old BMHS), Eagle-Vail
Rocky Mountain Volleyball Camp will be the ideal camp to prepare for middle or high school volleyball seasons. Head coaches from Vail Mountain School, Eagle Valley High School and Battle Mountain High School will lead participants through skills sessions, strategies and tactics of the game of volleyball. Athletes will be divided by ability and will work with all coaches throughout the camp. The final day will be spent playing volleyball games. Grades ninth through 12th will practice from 9 to 11:30 a.m. and 2:30 to 5 p.m. and grades fifth through eighth will practice from noon to 2 p.m. Costs are $135 for grades ninth through 12th and $100 for grades fifth through eighth. Registration underway. Call 970-479-2280.
Vail Gymnastics Summer Camps: Aug. 16-20 and Aug. 23-27
Ages 4 and Older
Vail Gymnastics Center
These are the final two gymnastics camps of the summer. The week-long camps are for children ages four and older and not only include gymnastics, but also outdoor adventures such as hiking, visiting local parks and excursions to Dobson Ice Arena, the Imagination Station, Vail Nature Center and more. Children are grouped according to age and skill level. Costs are $125 for a half day, 9 a.m. to noon, or $150 for a full day, 9 a.m. to 3 p.m. Children must be six years or older to attend the full day camp. Registration is underway. Call 970-479-2287.
Vail Skateboard Clinics: Tuesdays through Aug. 17
Ages 7 to 14
Vail Skatepark
Learn to skateboard at the Vail Skatepark with instructors who teach everything from basic skills and etiquette to perfecting a boardslide or kickflip. Skateboarding classes take place from 10 a.m. to noon on Tuesdays. Costs per clinic are $20 for VRD residents and $25 Eagle County residents. Purchase five sessions and costs are $15 for VRD residents and $20 for Eagle County residents. Skateboards and helmets required, wrist guards and knee pads recommended. Registration will be available in April. Call 970-479-2292.
Sponsors of VRD youth sports camps include: the Vail Daily, American National Bank, David Honda's Vail Sports Medicine Physical Therapy, Vail Realty, Antlers at Vail, Simba Run and The Resort Company and Vail Marriott.
For more information, visit www.vailrec.com.

---

10 Comments on "Vail Rec District serves up August kids camps ranging from volleyball to skateboarding to martial arts"