Vail Valley Foundation introduces 'Sowing Seed Summer Camp' for kids 7 to 11
Summer vacation days in August are normally filled with discovery, adventure and exploration for kids of all ages.
Now, the fun of those days can now include an educational component as the Vail Valley Foundation and Brush Creek Elementary School are hosting the inaugural five-day "Sowing Seeds Summer Camp".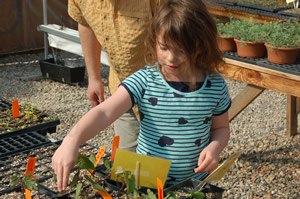 Scheduled from August 16-20, the individual daily sessions will run from 8 a.m. to 1 p.m. The cost for the one-week camp is $150 per student and the sessions are geared to children ages 7 to 11.
"The Sowing Seeds Summer Camp is a great way to not only provide some fun activities for our children," explained Jean McSpadden, Director of Education for the Vail Valley Foundation, "but to also to connect them with their environment. Under the direction of Sandy Story, our Sowing Seeds director, children will be immersed in the natural world through games, experiments, crafts and gardening."
Created in conjunction with Chef Kelly Liken of Restaurant Kelly Liken, the Sowing Seeds pilot program involves a greenhouse project at Brush Creek Elementary where students plant and care for their own gardens. The program not only connects children to their environment, but also fosters an understanding of the origin of food and teaches responsibility through stimulating hands-on activities.
The vegetables grown in the Sowing Seeds greenhouse have already been integrated into the Brush Creek cafeteria and students are saving their lunch scraps to add to the composting stations in the greenhouse.
Daily themes will include "Ready, Set, Garden" (August 16); "Mad Garden Science" (August 17); "Grow It! Cook it with a Chef, featuring Kelly Liken (August 18); "Nature Academy" (August 19) and "Flowers and Herbs" (August 20).
To register a child for a Sowing Seeds Summer Day Camp session, contact the Vail Valley Foundation at (970) 949-1999 for a registration form. Sessions will be filled on a first come, first served basis, with a maximum Camp size of 12 students.
Sowing Seeds and the Sowing Seeds Summer Camp Days are projects of the Vail Valley Foundation. For additional information on Sowing Seeds or the Foundation, visit www.vvf.org.
---

156 Comments on "Vail Valley Foundation introduces 'Sowing Seed Summer Camp' for kids 7 to 11"