Crosby, Nash to play Vilar Center in Beaver Creek April 8
Tickets go on sale Monday
BEAVER CREEK — Singer-songwriters David Crosby and Graham Nash will launch a spring tour in the U.S. that includes a tour stop at the Vilar Performing Arts Center in Beaver Creek on Friday, April 8 at 7:30 p.m.
While Crosby and Nash's legendary vocal harmonies will be the centerpiece of the show, they will be accompanied on the road by an ace-backing band featuring James Raymond (keyboards), Dean Parks (guitar), Kevin McCormick (bass), and Steve DiStanislao (drums).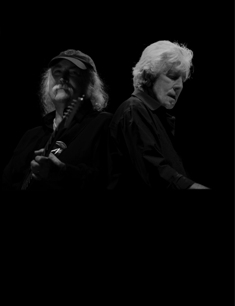 The tour will mix acoustic and plugged-in performances. "Touring with a full band gives us the opportunity to do selections from our catalogue that Graham and I haven't performed live together before," says Crosby. "We will also be introducing some brand new songs we've written, that have never been heard onstage or on record."
Crosby and Nash are also launching their own record label, Blue Castle Records, with the first-ever digital and vinyl editions of the live album Another Stoney Evening, recorded forty years ago, in 1971 at the Dorothy Chandler Pavilion in Los Angeles. The release date is set for March 22, and the album can be pre-ordered through their website www.crosbynash.com when tickets for the tour go on sale.
"This album represents the very beginning of our musical relationship as a duo," says Nash. "Whatever David and I do well together, it's wonderful that we're still doing it well. For the upcoming tour, with a rock 'n roll band, we've gotten fantastic advance response. It's exciting to be bringing this great new show to people."
David Crosby and Graham Nash have each been inducted into the Rock and Roll Hall of Fame twice—once with Crosby, Stills & Nash, and a second time with the Byrds and the Hollies, respectively.
Tickets for Crosby/Nash at the VPAC are $86/106/126 based on seating and will go on sale Monday, February 14 at 11 a.m. MST online at vilarpac.org, by phone at 888.920.ARTS(2787) or in person at the Vilar Center box office in Beaver Creek.
The Vilar Performing Arts Center is a project of the Vail Valley Foundation. For more information on the Vail Valley Foundation, visit vvf.org.
For special benefit seating for the Crosby/Nash tour, please visit www.guacfund.org
For more information, go to: www.crosbynash.com
IF YOU GO:
What: David Crosby and Graham Nash
When: Friday, April 8 at 7:30 p.m.
Where: Vilar Performing Arts Center
Cost: $86/106/126; based on seating
More information: 888-920-2787 or www.vilarpac.org
---

556 Comments on "Crosby, Nash to play Vilar Center in Beaver Creek April 8"