Beaver Creek welcomes 'extraordinary soul voice' of James Hunter to Vilar Center
Soul deep British R&B singer James Hunter - who possesses a "tight, slithery soul groove" and a "sweet growl" (The New York Times) – brings his band to Beaver Creek's Vilar Performing Arts Center (VPAC) on Friday, February 4 at 7:30 p.m.
With nods to American soul legends such as Sam Cooke and Ray Charles, Hunter's music maintains a sense of nostalgia, while infusing his sound with modern style and distinctive technique.
"The history [of rhythm & blues] is so rich with great singers and performers. I'm just trying to tap into that vein and try to make music that is about love and romance and heartbreak—all those great things that will fuel songs long after we're here," said Hunter.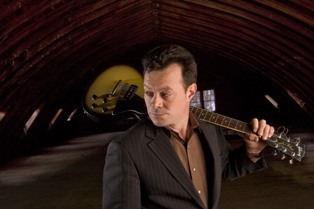 Hunter's stage show won him an influential fan early in his career. Van Morrison took a liking to the crooner after seeing one of his shows in Wales. He then appeared on Hunter's debut album in 1991. Hunter has toured several times with Morrison and is featured on Morrison's live album "A Night in San Francisco," as well as the studio recording "Days Like This."
Hunter's Grammy-nominated "People Gonna Talk" introduced him and his band to a worldwide audience in 2006. The album reached #1 on Billboard's Blues chart and took Hunter from "one of the best voices, and best kept secrets, in British R&B and Soul," as Van Morrison put it, to a major breakout success.
Born into a working-class family in Essex, England in 1962, Hunter's earliest musical influences were a collection of 78 r.p.m. discs of '50s rock 'n' roll and rhythm & blues given to him by his grandmother and his older brother Perry.
"It wasn't quite like growing up with the blues in Alabama, but in my part of England, anywhere south of Watford would be considered Alabama," Hunter said. "In the States, you've got the Mason-Dixon Line and in England, we've got the Watford Gap." Hunter's passion for the music of the '50s and '60s has never waned.
Tickets for James Hunter are $37 and are available online at vilarpac.org, by phone at 888.920.ARTS(2787) or in person at the Vilar Center box office in Beaver Creek.
The Vilar Performing Arts Center is a project of the Vail Valley Foundation. For more information on the Vail Valley Foundation, visit vvf.org.
---

90 Comments on "Beaver Creek welcomes 'extraordinary soul voice' of James Hunter to Vilar Center"