Fans can request a set at Jonny Lang show Thursday at Beaver Creek's Vilar Center
The beauty of an iPod is that you can load only the music you want to hear at any given time. The beauty of a 2010 Jonny Lang concert is that you can go online and "program" the songs you want to hear performed live.
Such will be the case Thursday, July 22, as the guitar virtuoso brings his "Live…By Request Tour" to Beaver Creek for an 8 p.m. show at the Vilar Performing Arts Center. Fans only need log on to Lang's website, www.jonnylang.com, click on the "Tour" icon and fill in the blanks.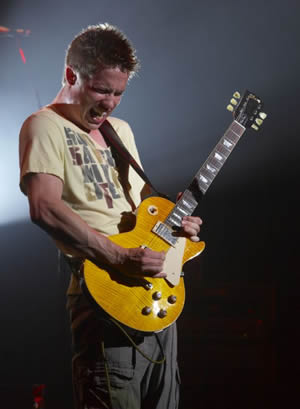 "This show will mark Jonny Lang's third appearance at the Vilar Center," offered Kris Sabel, Executive Director of the Vilar Center, "and each time he has left audiences wanting more. This 'Live by Request' format is a great concept that allows fans in each city to tell Lang what they are most interested in hearing so I hope you will take this opportunity to share an evening with this incredibly talented young man. And by all means, go online and request your favorite songs."
Lang started playing the guitar at the age of twelve, after his father took him to see the Bad Medicine Blues Band, one of the few blues bands in Fargo, North Dakota. Soon after, he started taking guitar lessons from Ted Larsen, Bad Medicine's guitar player, and several months later, Lang joined the Bad Medicine Blues Band, which was then renamed Kid Jonny Lang & The Big Bang.
The band moved to Minneapolis and independently released the album "Smokin'" when Lang was fourteen. He was signed to A&M Records in 1996 and released the critically acclaimed multi-platinum "Lie to Me" the following year.
The next album, "Wander this World", was released in 1998 and earned a Grammy nomination, while 2006's gospel-influenced "Turn Around", won Lang his first Grammy Award.
In more than ten years on the road, Lang has toured with the Rolling Stones, Buddy Guy, Aerosmith, B.B. King, Blues Traveler, Jeff Beck and Sting. In 1999, he was invited to play for a White House audience, including President and Mrs. Clinton. In 2004, Eric Clapton asked Lang to play at the Crossroads Guitar Festival to raise money for the Crossroads Centre Antigua.
At Crossroads, Lang was on the bill with many of the greatest of the living guitar greats. Although he was the youngest picker onstage, he wasn't intimidated.
"I don't know if 'intimidating' is the word," Lang pondered, "but it was definitely a reality check. If there was a level of competition in my mind, I would be intimidated but I don't really think that way. It's pretty much just about having fun and trying to help the audience have a good time."
The "Live…By Request Tour" is a follow up to Lang's April release of his first ever live recording, "Live at the Ryman".
"The Ryman is one of those magical places where you just can't help but be inspired", explained Lang. "I think a lot of that magic and inspiration makes its way onto this recording. It's a collection of some of the best songs from our studio recordings, only more energized, thanks to a great group of musicians and a very receptive live audience."
At 29, he is the same old Jonny Lang, that same boyish-looking dude with the ripped jeans, spiky hair and well-worn T-shirt. But, 15 years into his career, Lang is at crossroads: he split with his longtime Nashville manager last fall, he doesn't have a record label for the new album he's recording, and his wife is seven months pregnant with their third child.
"I've become a better listener," concluded Lang, "listening to the other musicians and trying to incorporate myself into the band as a whole, rather than being just the front guy."
Tickets for Jonny Lang…Live By Request are priced at $58 and are available online at www.vilarpac.org, by phone at 888.920.ARTS(2787) or in person at the Vilar Center box office in Beaver Creek. Tickets are available online 24 hours a day; the box office is open Monday through Friday from 11am-5pm MST, with additional hours on performance days.
The Vilar Performing Arts Center is a project of the Vail Valley Foundation. For more information on the Vail Valley Foundation, visit www.vvf.org.
---

65 Comments on "Fans can request a set at Jonny Lang show Thursday at Beaver Creek's Vilar Center"