'Bandslam' caps off Vilar Center's Free Family Film Series in Beaver Creek
A new kid in town assembles a fledgling rock band and together, they achieve their dreams, competing against the best in the biggest event of the year … Bandslam.
The stage is set for the finale of the Vilar Performing Arts Center's Free Family Film Series Wednesday, July 21, as Summit Entertainment's "Bandslam" brings down the curtain on the theatre's summer free movies.
Scheduled for a 6:30 p.m. show time for the movie, the evening will kick off with a dinner special at the Blue Moose in Beaver Creek, featuring a slice of cheese or pepperoni pizza for just $4.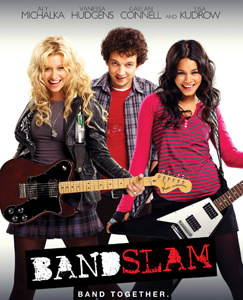 Following the film, teens can spend the remainder of the evening dancing to the tunes of DJ Mo Rockin in the Vilar lobby, with Moctails priced at $4 apiece and cupcakes for $3 each. Kids age 11 and up are welcome at the post-show party, with anyone under the age of 13 needing to be accompanied by someone 16 years of age or older.
Teenager Will Burton (Gaelan Connell) lives in his head…and his head is filled with music. When his mother (Lisa Kudrow) gets a new job in New Jersey, Will starts his junior year at a new school only to find the old cliques still apply, but rock-n-roll rules the scene.
Perpetually a misfit, Will strikes up a friendship with like-minded outsider Sa5m (Vanessa Hudgens…the 5 is silent). They are both surprised when the school's "it" girl, Charlotte (Aly Michalka), recruits Will to help assemble a band to compete in "Bandslam," a battle of the bands that is "Texas High School Football BIG."
Charlotte's ex-boyfriend is poised to win with his band Glory Dogs...Springsteen wannabes down to their hats. For the first time in his life, Will finds he is uniquely suited to not only participate in something, but to truly make a difference.
Against all odds, their band develops a sound all its own with a real shot at success in the contest. Meanwhile, romance brews between Will and Sa5m, who plays a mean guitar and has a voice to die for. When disaster strikes, its time for the band to make a choice: Do they admit defeat, or face the music and stand up for what they believe in?
In addition to the pre and post-show activities, Beaver Creek Summer Camp will provide your child with dinner (ice cream & pizza) and escort them to the film for $45, call 970.754.5464 to make your reservation.
The Vilar Performing Arts Center is a project of the Vail Valley Foundation. For more information on the Vail Valley Foundation, visit www.vvf.org.

---

36 Comments on "'Bandslam' caps off Vilar Center's Free Family Film Series in Beaver Creek"