Grammy-winning kids' bands, ice-skating show at Solaris highlight week-long Holidaze event in Vail
Vail Mountain officials today announced the details of Vail Holidaze, a new signature guest event geared toward families with children, slated to take place Dec. 18-25.
Vail Holidaze will feature a week-long schedule of family-friendly events and activities throughout Vail, both on the mountain and in town. Entertainment highlights include live concerts in Vail Village from two Grammy-nominated children's bands – Brady Rymer and The Little Band That Could and Milkshake – as well as the "Winter Solstice on Ice" ice skating show at the Solaris Residences ice rink in Vail Village.

"Adding Vail Holidaze to our event lineup is part of our overall belief in events as an appealing offering for our guests and also as a key competitive differentiator," said Adam Sutner, director of sales and marketing for Vail Mountain. "Vail Holidaze is oriented towards families with children in order to strengthen our family programming at this important time of the year and to ensure we give our destination family guests every possible reason to choose Vail."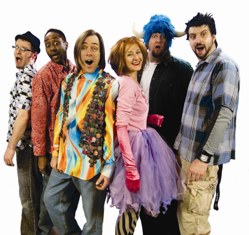 Grammy-nominated Brady Rymer and the Little Band That Could will perform live in Vail Village on Thursday, Dec. 23. Rymer and his band are known for music with rock and roll heart that is enjoyed by both children and parents. Kids love the energy of his all-American roots/rock music and Rymer's magnetic, good-times-guy charm, and his skill as a musician is something even the most discerning music-loving parent can appreciate.

Milkshake, also a Grammy-nominated children's band, will take the stage in Vail Village on Wednesday, Dec. 22. Milkshake's mission as a band is to create great rock music for kids. Milkshake has won over preschoolers without compromising song craft, stagecraft or their authentic rock and roll spirit. Milkshake's songs are memorable and evoke influences from Rodgers and Hammerstein to Lennon-McCartney to The White Stripes, resulting in music that appeals to kids of all ages.

Winter Solstice on Ice will take place on the new ice rink at the Solaris Residences in Vail on Tuesday, Dec. 21. Winter Solstice on Ice will bring world-class ice skaters, like two-time and current World Silver Medalist Patrick Chan, to the heart of Vail Village to perform singles, pairs and group programs that are sure to delight parents and children alike.

The event's festivities will include numerous other family-centric activities throughout the week like snowman decorating, kids' glow stick parties at the base areas, Santa workshops, caroling and much more.

For more information on Vail Holidaze, including a full schedule of events and lodging information, visit http://www.vail.com/holidaze.
---

151 Comments on "Grammy-winning kids' bands, ice-skating show at Solaris highlight week-long Holidaze event in Vail"