Dr. Marc Philippon leads study on hip injuries in youth hockey
Steadman Clinic's Philippon studies long-term impact and prevention of youth hockey hip injuries
Dr. Marc Philippon, an orthopedic hip surgeon with Vail's The Steadman Clinic, and his fellow surgeons, believe that hip injuries among hockey players are becoming an epidemic, long-term struggle for sports professionals. They have observed that these injuries, the majority caused by strenuous twisting, rotating and over-use, can start at a young age and most often end with debilitating damage. They are currently involved in a ground-breaking research study to determine at what age these injuries begin to form and what preventive measures can be taken in order to avoid long-term damage.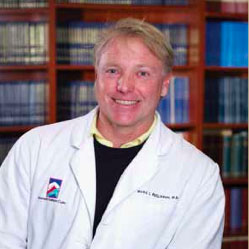 One after the other, professional hockey stars from the National Hockey League have come from afar to see world renowned orthopedic hip surgeon Dr. Marc Philippon. His Steadman Clinic office features a large collection jerseys worn by some of the best known hockey players in the world. Mario Lemieux, Paul Kariya and others are a confirmation that these sports professionals shared a similar hip injury and one that continues to bring them, and others like them, to the doorsteps of hip surgeon Dr. Marc Philippon.
Leading surgeons alongside Dr. Philippon believe a common hip injury happens when hockey players are still growing. The condition, called femoroacetabular impingement, can lead to arthritis later in life. Dr. Philippon and the other doctors at the Steadman Philippon Research Institute in Vail are working to determine at what age this specific hip injury is most likely to occur. Their research will hopefully allow young hockey players to understand better how to prevent them.
Because so many hockey players have the dream of turning professional one day, they begin their training at a very early age. Specialists are becoming keenly worried that these early players will become a generation of kids who will ultimately face hip arthritis. Playing the same sport, day after day, year after year, may create lasting injuries.
To date, researchers have found the injury is alarmingly common among 17 and 18-year-old hockey players. In a soon-to-be released medical journal, surgeons and researchers will provide the findings of a major study relating to hip injuries. Recently, these researchers screened 20 members of a Colorado Springs pre-college travel hockey team and discovered that the vast majority of the players from this team exhibited hip problems. This was a concerning result from the study that led them to further research athletes even younger—those of pee-wee age from about 10 to 12 years of age. In this finding, the children were too young and did not exhibit noticeable problems yet. However, researchers believe that it is a good age to begin screening because it is just before their growth spurts begin.
In this highly anticipated study, researchers will study, test and analyze the hips of these youngsters to monitor changes and problems associated with development and overuse.
According toPhilippon, "The local hockey players had M.R.I.s taken and a full physical exam including tests of their hip strength. We plan to repeat the tests in two and four years and look at how skating stride could be causing the problem. We want to look at the risk patterns so we can modify themand understand when the problems start," he said.
He hopes the research can lead to guidelines on training, how many games kids should play without upping the injury risk and how to detect hip problems earlier.
Although the worry is real, many parents of young hockey players assume that this type of hip injury is just par for the course. Eagle resident Andy Clark is one of them; his 11-year-old son, Max, has been playing hockey since he was 4 and will be a part of this research study. Clark admits that his son enjoys the game and has not been too negatively impacted by injury. However, he himself has hip problems from years of playing hockey as does his friends. Thus, he hopes the research study sheds light on how these injuries can be prevented for future youth.
The common hip injury the doctors are studying occurs when the shape of the thigh bone gets too big to fit in the socket. Friction eventually tears the socket. Dr. Philippon has successfully treated many hockey players with surgery but he hopes the study will outline ways to prevent the injury.
The Steadman Philippon Research Institute is sponsoring the $100,000 study. Researchers hope to submit the initial findings to a national sports medicine journal in November of 2010. It will be a landmark study with groundbreaking results.
---

774 Comments on "Dr. Marc Philippon leads study on hip injuries in youth hockey"