Dala concert at Vilar Center features free beer for donation of school supplies
The Vilar Performing Arts Center's (VPAC) Bud Light Underground Sound concert series continues on Saturday, October 23 at 7:30pm with Canada's favorite harmonizing duo, Dala. The duo's fresh blend of pop-folk music will turn first-time listeners into instant fans.
Amanda Walther and Sheila Carabine of Dala (the duo's name was formed by combining the two last letters of each artist's name) have come a long way in a short time. The two best friends, who met in their high school music class and wrote their first song together in 2002, have since performed mostly in Canada, but began appearing in the U.S. for the first time in 2010.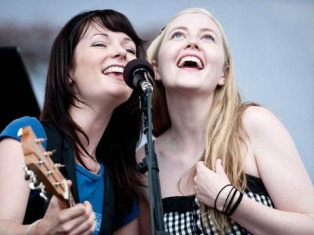 Dala have quickly established themselves as "one of the biggest rising stars on the pop-folk circuit". Their music is inspired by artists like Joni Mitchell, Neil Young, Bob Dylan and Gordon Lightfoot and the duo's live performances showcase their extraordinary ability to interweave their voices from lead to harmony and back again while accompanying themselves on acoustic guitar and piano.
Dala's VPAC show is a part of the their nationwide fall tour, in support of their acclaimed PBS special "Girls From the North Country," a program that pays homage to the melody, lyricism and spirit of the great folk artists of all time. The PBS special has aired over 400 times on stations across the country since June.
Saturday night's Dala show also marks the first-ever "VPAC Cares about Education Night" and will feature a school supply drive for Eagle Valley High School. Bring a calculator, white out, sharpie or other supply from the VPAC's school supply wish list and receive one free beer at the Dala show.
Beaver Creek's Dusty Boot restaurant is again offering their "Date Night" special, a three-course dinner for two plus two tickets to the Dala concert for $50 or $25 for concertgoers that have previously purchased the Underground Access Pass.
Tickets for Dala are $20 and are available online at www.vilarpac.org, by calling 970.845.TIXS (8497) or in person at the box office in Beaver Creek.
The Vilar Performing Arts Center is a project of the Vail Valley Foundation. For more information on the Vail Valley Foundation, visit www.vvf.org.
---

684 Comments on "Dala concert at Vilar Center features free beer for donation of school supplies"