Public events abound for spectators during this week's Vail, Beaver Creek stages of USA Pro Challenge
While watching the world's top cyclist will be the first order of business during the Beaver Creek and Vail stages of the USA Pro Challenge, pedaling against the clock will not be the only participatory opportunity August 22 and 23 as a number of public activities are on tap at both resorts for race fans.
"Our goal is to host two days of a complete race and resort experience," explained Ceil Folz, president of the Vail Valley Foundation and head of the Vail/Beaver Creek Local Organizing Committee. "Our event tagline is 'Summer's Greatest Stages' and we believe the fun and excitement should be both on and off the bike."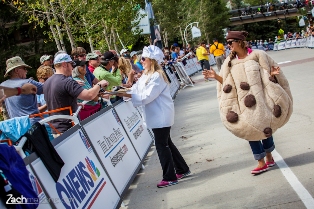 Topping the list of accompanying race events will be a Mobile Scavenger Hunt, with individual contests for both Beaver Creek and Vail. Participants will download a free FOMO Sonar app to their phones before attempting to decipher clues, track down locations and execute tasks associated with collecting all of the required items in the shortest amount of time.
Participants can win prizes from USA Pro Challenge sponsors and local Vail and Beaver Creek merchants throughout the day during each scavenger hunt. In addition, the overall winner from each day will receive a grand prize, with gifts from each participating merchant and sponsor. The same person cannot win in both Beaver Creek and Vail.
The scavenger hunt gets underway each day at 1:30 p.m. with participants checking in at the FOMO Sonar booth to "unlock" the mapto kick off the competition. Each "ping" or stop on the map can be completed in any order, but contestants must visit every location and be the first back to the tent in order to win.
The Pro Art Challenge will return to Beaver Creek August 22 as up to fifteen renowned artists will stage their own competition as the peloton races from Steamboat Springs to Beaver Creek's mountaintop finish line. Prizes will be awarded to the top artists, with a variety of mediums represented in the Pro Art Challenge. The public will also be able to bid on the individual art pieces.
Beaver Creek's signature "Cookie Time" will also make an appearance at 2:35 p.m. on race day, with uniformed chefs passing out the resort's renowned chocolate chip cookies to race fans.
Vail's post-race activities will be centered in and around Mountain Plaza, adjacent to Gondola One, headlined by a free Ice Cream Apres, courtesy of HaagenDazs, from 4:15 to 5:30 p.m. Families are encouraged to top off the day's race action with a cupful of cool ice cream.
In conjunction with Ice Cream Apres, organizers will also host the Chro-Moly Chef Challenge bike building contest, also in Mountain Plaza. Similar to the Iron Chef but with bikes, the Chro-Moly Chef Challenge is an action-packed event where 4 to 6 teams have one hour to build a bike from a selection of bike parts, which will not be revealed until two minutes before the clock starts. The Chro-Moly Chef Challenge will run from 4:30 to 6 p.m.
Along with the public activities associated with each stage, the USA Pro Challenge will also host their Festival Area in both Beaver Creek and Vail, offering fans an opportunity to see the latest in cycling gear and apparel. The Festival Area will run from 1 p.m. to 6 p.m. in Beaver Creek and noon to 6 p.m. in Vail.
The Vail and Beaver Creek stages of the 2013 U.S. Pro Cycling Challenge will be organized through a collaborative effort involving the Vail Valley Foundation, the Town of Vail, Vail Resorts, the Beaver Creek Resort Company and cycling enthusiasts throughout the Vail Valley.

---

361 Comments on "Public events abound for spectators during this week's Vail, Beaver Creek stages of USA Pro Challenge"