Freddy Jones Band to kick off free Hot Summer Nights concert series
The Vail Valley Foundation is pleased to showcase its newly renovated Gerald R. Ford Amphitheater in Vail Tuesday evening, and kick off the free concert season with the first Hot Summer Nights performance of 2013 – The Freddy Jones Band, underwritten by Donna Giordano.
Taking the stage at 6:30pm, The Freddy Jones Band comprises roots-rock specialists in the tradition of groups like the Eagles, The Band and The Allman Brothers. With influences that stretch across the archives of musical history, their sound blends blues, rock and folk music.
"Free concerts in the summer represent one of the Vail Valley Foundation's favorite projects in the Valley," said Jennifer Mason, director of the Gerald R. Ford Amphitheater. "The fact that we are opening our doors for the first time after our renovation project makes it that much more special. We can't wait to host a big crowd next Tuesday."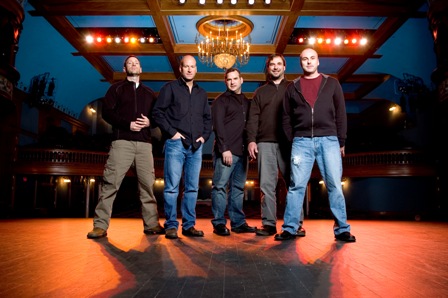 The Freddy Jones Band gained national notoriety with hits "In a Daydream" and "Take the Time." They have shared the stage with great musicians like Widespread Panic, Phish, Sheryl Crow, Dave Matthews and Matchbox 20, to name a few. Their tour history reveals an extremely hard-working band who believed in their music and followed their dreams.
The group consists of Marty Lloyd (vocals and acoustic guitar), Jim Bonaccorsi (bass), Rob Bonaccorsi (guitar and vocals), Simon Horrocks (drums), and Wayne Healy (vocals and guitar).
This year, Bud Light Hot Summer Nights is celebrates its 26th season of bringing free music to Vailwith the series kick-off next Tuesday, June 18 at 6:30pm. New this year, the amphitheater is hosting Hot Summer Happy Hour, where guests can enjoy food and beverage specials from 5:30-6:30pm before each concert. Hot Summer Nights will continue through August 27, with all shows free to the public and doors opening at 5:30 pm.
The Gerald R. Ford Amphitheater is located east of Golden Peak at Ford Park in Vail. Concert attendees are asked to park at the main Vail Village parking structure, with overflow parking at the Lionshead parking structure. For added convenience, the free Town of Vail shuttles will run extended routes past Golden Peak from 5:30-9:30pm, with a drop off at the soccer field near the Ford Amphitheater. Additionally, a special Village-to-Village express bus will run from 4-9:30pm with stops at the east entrance of the Lionshead parking structure, in front of the Vail Village Information Center and at Ford Park.
Once inside the concert venue, picnics with commercially-sealed non-alcoholic beverages are permitted, as are legless lawn chairs, blankets and umbrellas. Bikes, skateboards and dogs are prohibited at the Amphitheater. A concession area with a full grill and bar service is available.
The Bud Light Hot Summer Nights free concert series and the Gerald R. Ford Amphitheater are both projects of the Vail Valley Foundation. For more information on Bud Light Hot Summer Nights, visit www.vvf.org and follow Vail Free Concerts on Facebook.
2013 BUD LIGHT HOT SUMMER NIGHTS SCHEDULE
Tuesday, June 18 Freddy Jones Band
Tuesday, June 25 TheDunwells
Tuesday, July 2 Honey Island Swamp Band
Tuesday, July 9 The Revivalists
Tuesday, July 16 Robert Randolph &The Family Band
Tuesday, July 23 Hot Summer Nights & Vail International Dance
Festival's 8150 Urban Dance Challenge
Tuesday, August 13 Robert Walter's 20th Congress
Tuesday, August 20 Mountain Standard Time
Tuesday, August 27 Ky-Mani Marley

---

0 Comments on "Freddy Jones Band to kick off free Hot Summer Nights concert series"
Be the first to comment below.