Boulder naturalist joins girl's empowerment camp slated for June 17-22 in Eagle
Chrysalis Circle, a six-day nature adventure empowerment camp for girls in middle and high school, announced this week that Ann Hackney, a Transformational Wilderness Guide based in Boulder, will co-facilitate the camp.
Hackney joins founder, Susie Kincade, in Eagle, June 17-22 for the week which includes rafting/kayaking, rock climbing, horse wisdom, hiking, yoga, communication and listening tools, stress relief and self-awareness skills.
Ann Hackney is a Nature Educator, Guide, Earth-based healer and herbalist. She draws from her path of Tibetan Buddhism, Native American Spirituality and healing lineages. She currently teaches at Feet on the Earth, a year round earth-based school in Boulder, CO. Ann has been studying, teaching, practicing, and sharing for the last 10 years. She brings, spontaneity, healing and deep nature connection to her work.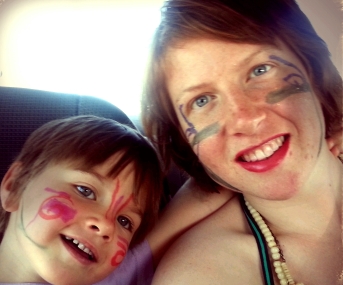 "I'm excited to be part of Chrysalis Circle this summer! Empowering girls through nature adventure and learning really helps them embrace their passage into womanhood. Using song, art, and playfulness adds even more to the fun," commented Hackney.
Chrysalis Circle is a dynamic program blending nature adventures with important life skills for adolescents and beyond. The outdoor activities guide young women on a journey to discover and connect to their core being, find their authentic voice, gain confidence and integrate mind, body and spirit. The program integrates activities in nature, creative arts, leadership and communication skills, and time for introspection. Girls meet from 9 a.m. to 5 p.m. with one overnight on June 21st.
Chrysalis Circle is offered by Women's Empowerment Workshop, founded five years ago by Susie Kincade, a coach, teacher, mentor, and transformational wilderness guide. Kincade raised two daughters and two stepdaughters and is committed to helping girls and women navigate their various transitions in life. Women's Empowerment Workshop empowers women and girls to nourish mind, body and spirit by connecting to the natural world in profoundly enriching, compelling, and transformational ways. WEW's unique and expertly guided nature adventure retreats for girls and women rejuvenate, revitalize and renew personal strength, awareness and confidence.
Cost of Chrysalis Circle is $450 before June 7, and $500 thereafter. Limited scholarships are available and Kincade is offering a $50 "Bring a Friend" discount. The group size is limited to ensure individual attention. For information and registration, contact Susie Kincade 970-328-5472 or visit www.womenempower.us.

---

1 Comment on "Boulder naturalist joins girl's empowerment camp slated for June 17-22 in Eagle"