Studio 8100, Vail area's newest dance studio, announces summer instructor lineup
Studio 8100, located near Vail, welcomes students to learn from the very best dance teachers in the nation this summer at the newest dance studio in the area.
The "Summer Dance Intensive" series allow participants of all levels to take classes led by invited dance luminaries and Studio 8100's own high-profile dance instructors in the heart of one of the Rocky Mountain's most charming resort areas.
The intensives are one to two week long programs (in addition to the studio's regular schedule of class offerings) in ballet, hip-hop and other dance styles. Guest teachers includes Principal Dancers from national ballet companies, choreographers with resumes that include movie, stage and broadcast experience and winners of national dance competitions.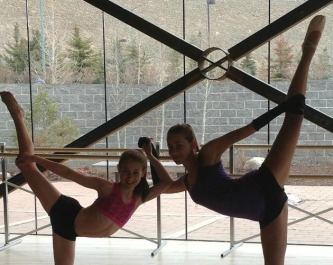 "We think this is the trifecta of the way a dancer can take a week in the summer to train: they get high-altitude training, access to the best teachers in the world, and time to enjoy the charming atmosphere of world-famous the Vail resort area," states Studio 8100 owner Hilde Falk. "We are excited to show a wide audience our new studio, since we invested in the highest level of professional floor materials, a light and bright setting with floor-to-ceiling glass windows showcasing the mountains, and space to really move and express dance."
A wide variety of evening activities are scheduled, such as meet-and-greets, excursions to other local visiting professional performances, and more all listed on the www.vaildanceintensive.comwebsite.
A potential line-up of teachers includes:
Corina Kinnear, Los Angeles based Emmy nominated dancer
Sharon Wehner, Principal Dancer with The Colorado Ballet Company
David Taylor, Choreographer and Director of one of Denver (and the nation's) most recognized dance companies for forty years, whose troupe has toured all over the world every year
Joanna Curley, Youth America Grand Prix Winner dancer
Rachel Elliott, Contemporary Dancer, LINES Ballet, San Francisco
Chase Evered, featured performer on tour with LeAnn Rimes, Destiny's Child, Ciara and others
Audrey Gibson, Los Angeles' Revolution Company and dancer in television's popular show, "Bunheads"
Dance intensives are intended for ages 11-25, from intermediate level dancers and above. Lodging packages are available. Prices start at $750 for one week; lodging add-ons from a reduced rate of $375 per week. For more information about the Summer Dance Intensive, visit www.vaildanceintensive.com or Studio 8100's website, www.studio8100.com or call 970-306-3395.
---

94 Comments on "Studio 8100, Vail area's newest dance studio, announces summer instructor lineup"