Colorado Ski Country USA resorts announce slew of improvements for coming 2012-13 ski season
For the 2012-13 ski season, Colorado Ski Country USA (CSCUSA) resorts are dedicated to solidifying Colorado as the top ski vacation destination, including exceeding guest expectations for services, amenities and resort facilities.
Colorado is synonymous with skiing because guests know they will find consistent powder snow framed by top-notch services. As part of their commitment, resorts are enhancing their profiles this season, adding new infrastructural components that will make visitors' time on the slopes more efficient and rewarding. Improved snow making and maintenance at a number of resorts is calculated to enhance skiing and riding, while guest-facing developments such as new restaurants, increased terrain and additional built-in activities will supplement the overall guest experience.
These capabilities, along with numerous other additions and renovations throughout Colorado Ski Country, are intended to usher in a new era of guest service and help maintain Colorado's position as the nation's leading state for winter activities. Below is a complete round-up of the 2012-13 capital improvements.
New Infrastructural Improvements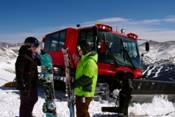 Howelsen Hill, the oldest continuous resort in operation west of the Mississippi, is building a $1.75 million HS45 (Hill Size 45) ski jump that will be fully functional in summer and winter. Owned by the City of Steamboat Springs, Howelsen anticipates finishing this intensive project prior to this winter. When completed, the HS45 Ski Jump's plastic surface will be sprayed with water, enabling skiers to slide on the surface and allowing youth level competitors to jump at Howelsen Hill in both the summer and winter. This will provide training for young athletes from around the nation to be competitive on a national and international basis.
Wolf Creek's new Race Hutch will debut this season, located at the bottom of Charisma where the race-course finishes. Race equipment, fencing, gates, sound system and banners will be located in this small building. Also, new water-free composting restrooms will be installed at the base of the Alberta Lift replacing the current temporary port-a-potties.
Snowmass will add 230 acres of new terrain on Burnt Mountain this season, bringing total skiable acreage to 3,362 acres, making it the second largest ski area in Colorado. The terrain on Burnt Mountain features rolling, low-angle meadows, glades and spectacular views into the valleys between Snowmass and Buttermilk.
Loveland's new on-mountain developments include complete renovations on The Ptarmigan Roost Cabin at the top of Chair 2 and The Rockhouse at the top of Chair 1. The interiors have been redone and the decks expanded to create more space for skiers and riders to take a break between runs and enjoy the views. The resort will also reconfigure Chair 2 to add an off-load station below the current re-load station, allowing the area to offer early and late season lessons for beginner skiers and snowboarders when Loveland Valley is closed.
In addition to its new on-mountain developments, Loveland will utilize its new snowcat to take guests up to The Ridge, a free ride designed to grant convenient access to its wider terrain.
Monarch received Forest Service acceptance of its new master plan last November. The Base Lodge expansion and remodel is the first project, a $2.3 million investment. An additional 16,000 square feet of space will enhance the facilities and services. The improvements include rejuvenation of the entire lodge, including creating indoor stairs to all levels, a handicap elevator, a fire suppression system and more seating throughout the Lodge.
Guests will notice the newly expanded Base Lodge upon arrival. On the right side of the building at the parking level there is now a direct-to-mountain walk-thru entrance.
As part of its commitment to improving the experience for beginners and introducing newbies to the sport, Arapahoe Basin is adding an $80,000 conveyor lift in the Pika Place Learning Arena. Already home to North America's highest terrain park, the resort will prepare to open the 2012-13 season with the addition of a beginner-level terrain park, called Ace's Kids Park, which will be adjacent to the new lift.
Winter Park Resort will add a new Tube Park for the upcoming season. This family-friendly amenity will give guests yet another exciting activity in the Village during the day and into the evening. Opening in December 2012, the new park will feature four lanes, conveyor lift access and a state-of-the-art warming structure with restrooms, hot chocolate service and flexible space available for groups.
Launched for the summer of 2012, Copper Mountain's newest attraction – the Alpine Rush Zip Line – will continue to operate throughout the 2012-13 winter ski season. This family-friendly ride features a unique dueling-design which allows two guests to fly side-by-side as they soar 30 feet above Copper's bustling West Lake ice skating rink. The flight travels 300 feet across the lake, reaching speeds of up to 30mph. Alpine Rush makes the perfect addition to Copper's intimate, pedestrian-only Village, which also features restaurants, shopping and comfortable lodging, all within walking distance to the lifts.
Restaurant and Hotel Renovations
Aspen Skiing Company (ASC) has made significant investments to improve the guest experience. Major projects include the completion of The Restaurant at Elk Camp on Snowmass, a $15 million capital improvement, and a complete remodel and reinvention of the restaurant at The Little Nell hotel, located at the base of Aspen Mountain.
Continued renovations at the Paradise Warming House at Crested Butte Mountain Resort have been taking place throughout the summer for the second year in a row. The resort has put more than $200,000 into improving the on-mountain cafeteria; from completely upgrading the food line, to new furniture, an outdoor barbeque, a new bar, carpet and signage.
The Sidewinder Saloon at Monarch Mountain will be expanded in several ways. The new kitchen will allow for new and delicious additions to the menu, while 85 more seats will increase capacity so guests can enjoy the new menu comfortably.
The Gunbarrel Cafeteria will also benefit from the resort's expansion and remodel. Guests will find a larger scramble area and more food options. Seating in the cafeteria area will increase from 67 to 520 chairs, an incredible capacity expansion of 676 percent.
Freshies, Monarch's popular deli, will be relocated to the lower level on the south side of the walk-thru. Freshies' improvements include seating for 16 people and the addition of Starbucks coffees and snacks to its menu.
The popular Family Picnic Room located on the new lower level is also growing, from 224 to 392 seats. A new family restroom, dressing rooms, lockers and the Snowcat Tours meeting area will be linked to the upper levels via indoor stairs and handicap elevator. The entire building will be joined by a new roof, house additional recycling centers, and a second ATM machine.
Powderhorn will feature a new outdoor eatery this coming season, at the top of the Take Four Lift. The cash-only menu at Take Four Quad Grille will include burgers, brats, grilled chicken and soft drinks, and allow guests a quick fix as they bask in the sun to dine.
Telluride Ski Resort also has several planned restaurant renovations and improvements anticipated to be ready for the upcoming season. Heavy investment is being made to its recently opened on-mountain restaurant, Bon Vivant, and to time-tested favorite, Tomboy Tavern, which will see the addition of a private dining room.
With a variety of new infrastructural capital developments, Wolf Creek will open The Continental, a small building that will house an espresso bar located on the top of the Treasure Chairlift. This guest service snack station will offer a variety of coffees and teas, both caffeinated and decaffeinated, as well as other drink items and fresh baked pastries. A water free composting restroom will be located on the lower level.
The ski area's on-mountain pizzeria had a soft opening toward the end of last season, and has inspired the next step in the resort's development. Raven's Roost, a full service bar, will open on the top level of the Raven's Nest, a beautiful glass restaurant located at the top of the Raven Lift. The Raven's Nest will be fully stocked and ready to serve at the start of the upcoming ski season.
Snowmaking Improvements
Colorado is known for having consistent snow conditions and the 2012-13 season will be no exception as a number of resorts invested in snowmaking equipment. Arapahoe Basin has purchased a new $250,000 snowcat, and Winter Park Resort will replace two of its snowcats, resulting in improved snow maintenance at both resorts. Steamboat Resort will add a new Bison groomer to its fleet, expanding and upgrading snowmaking capabilities, and will also add new 4-stroke energy efficient snowmobiles. Howelsen Hill will be introducing a new Super PoleCat snow gun to facilitate the hill's snowmaking ability, complementing its new ski jump.
Last season, Copper Mountain partnered with the U.S. Ski and Snowboard Association (USSA) to create the U.S. Ski Team Speed Center, an exclusive on-snow alpine ski racing venue designed to provide full length downhill training by early November each season. For the 2012-13 season Copper will fine-tune the automated snowmaking system for the Speed Center.
New snowmaking pipes are being installed at Crested Butte Mountain Resort, adding more acreage and more capacity to the East River area. Enhanced snowmaking will allow the resort to open this area sooner, with better coverage in the early winter season. The resort has also leased a new Prinoth snow groomer, the Bison X, which will maintain one of the state's best corduroy.
During the off-season, Telluride completed an operational and energy analysis on existing snowmaking equipment. After this study, the resort received a snowmaking grant through National Ski Areas Association's (NSAA) Sustainable Slopes Program that includes five high-efficiency snowmaking guns. These new guns will be a significant addition to the 10 high-efficiency guns purchased last season, and complement the three new Piston Bully snowcat groomers that Telluride's grooming department has added to its fleet to improve terrain grooming.
Wolf Creek not only purchased a new Piston Bully 400 Snowcat to improve terrain options, but has installed two more Gazex exploders, one in the Horseshoe Bowl and one on the Knife Ridge. The Gazex and Aviblasters are an integral part of Wolf Creek's Avalanche Hazard Reduction Program.
Partnerships, Rental Fleets, Ski School Improvements and New Access
Copper Mountain, home of the unique Woodward at Copper, has acquired a 14'x14' Super Tramp at the facility for the upcoming season. There are only three Super Tramps in the country. Woodward, dedicated to park and pipe progression, has also added a portable skate mini-ramp.
Silverton Mountain will begin hiking access, and heli drops for an upgrade fee, to new runs that require rappels in or out of couloirs and/or big snowy aprons. This will allow access to places like the Mad Dog, Close Out Couloirs off Storm Peak, and the Hidden Valley – a large, open powdery bowl with no accessibility except via a 100 ft. rappel. The new activity is $425 per person and promises the adventure of a lifetime.
Steamboat Resort has partnered with ski manufacturer Rossignol to create the Rossignol Experience Center. Rossignol's line of Experience Skis were created to fit the needs of skiers ranging from novice to expert, making the progression easier, faster and more fun. Similarly, the upcoming season will see yet another step in the progression of Durango Mountain Resort as it has also partnered with ski manufacturer Rossignol to open a Rossignol Experience Center. The Durango Mountain Resort Ski School has been trained by Rossignol to incorporate the new Experience technology into their lesson programs, minimizing the learning curve and getting resort skiers out and enjoying the entire mountain quicker than ever. Crested Butte Mountain Resort will also introduce its new partnership with Rossignol this season, and the resort's Rental and Demo Center will utilize Rossignol's Experience Demo program to aid in the learning process.
Monarch is investing an additional $300,000 to improve the guest experience by expanding its rental and demo fleet of skis, snowboards and boots. Additionally, the Monarch ski school staff will don new highly visible green uniforms, and ski patrol will add new snowmobiles to assist guests and open terrain quickly and more efficiently.
Winter Park Resort has grown its rental fleet by adding new helmets, boots, skis and snowboards to ensure guests can enjoy the newest equipment available, while Wolf Creek has also invested heavily in its rental fleet to provide the same opportunity.
---

142 Comments on "Colorado Ski Country USA resorts announce slew of improvements for coming 2012-13 ski season"