Vail Automotive Classic Wheels & Wings Show to feature powerful Bugatti Veyron
The Third Annual, Vail Automotive Classic Wheels & Wings Show on Saturday, September 8th, from 10 a.m. to 3 p.m. at the Vail Valley Jet Center will feature a Bugatti Veyron, Grand Sport, one of the most powerful and impressive supercars out there.
Touting 0 to 60 miles/hr in 2.5 seconds, the Bugatti Supercar is on a par with modern Formula 1 racecars and reaches a top speed of 250 miles/hr… all with a convertible top and aerodynamic system that adjusts to the speed.
"As the former Publisher of Car and Driver and Road & Track Magazines, I know my cars, and car events. This is not one to be missed!" says Ed Abramson, Chairman of the Vail Automotive Classic "The Supercar and Sports Car Classes at the Wheels & Wings Show is full of impressive power this year!"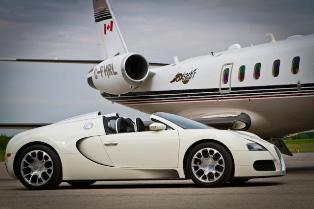 Lotus, Ferrari, ALFA Romeo, Corvette and Porsche are just a few of the other makes of sports cars and supercars you can expect to see at the show this year. The Wheels & Wings Show consists of 23 Entry Classes for cars, ranging from American Pre-War Classics, Muscle Cars, Customs, European Sports Cars, to a Green/Electric Car Class, sponsored by Energy Smart. The Show also includes five entry classes for motorcycles and a variety of aircraft power too, such as a T-6, Pitts Aircraft, a Kitfox, and a Sea Fury.
The Saturday event is just one of several Car, Aircraft and Motorcycle celebrations open to the public throughout the weekend! The Vail Automotive Classic is also hosting their First Annual, Vail Automotive Classic Live Auto Auction taking place on Friday, September 7th at the Vail Valley Jet Center in Hangar #1. Proceeds from the auction event will benefit both Jack's Place at Shaw Regional Cancer Center and Eagle Valley Senior Health. The auction event begins at 4:00 p.m. with the car preview, auction starting at 6:30 p.m. The evening includes BBQ + soda for $20, cash bar, and live music from Valley's own Hardscrabble Band.
The power-filled weekend concludes on Sunday, September 9th with the Third Annual Vail Automotive Classics Car Show in Vail Village, 9:00 a.m. -3:00 p.m. Spectators may peruse vintage, classics and custom cars throughout Vail Village and includes a People's Choice Award Ceremony at 1:30 p.m.
The Vail Automotive Classic is the most comprehensive auto, aircraft and motorcycle show in Western Colorado, featuring an unparalleled display of machinery. With over 180 cars, 30 airplanes and other aircraft, and 20 motorcycles, the 2012 show will amaze, entertain and blow you away. For complete details plus a video of the 2011 event, visit www.vailautomotiveclassic.com.
---

0 Comments on "Vail Automotive Classic Wheels & Wings Show to feature powerful Bugatti Veyron"
Be the first to comment below.