Vail Automotive Classic features vintage planes, cars and motorcycles at Jet Center and in Vail Village
The Vail Automotive Classic will hold its first annual Wheels and Wings Show September 11-12, 2010. Featuring vintage and classic cars, airplanes and motorcycles, the show is open to spectators from 10 am – 3 pm on Saturday, September 11, 2010 at the Vail Valley Jet Center. Cars will also be displayed on Sunday, September 12 in Vail Village starting at 9 am.
"We currently have over 90 cars and over 20 airplanes pre-registered, and anticipate at least 25-30 more on the day of the show," said organizer and Director Doug Landin, "so this should be a really great display."
Cars will be displayed across seven basic categories, including Classics, European Sports, Street Rods, Muscle Cars, Customs, Super Cars, and Vintage Motorcycles. Included in this presentation are a 1920's classic Auburn speedster, Ford GT 40, full range of Ferraris both old and new, 1929 Rolls Royce, 1971 Ford Mustang Mach1, 1959 Mercedes-Benz 220 SE, 1979 Ford - Indy 500 Pace Car Edition Mustang, 1955 Thunderbird, 1957 Porshe Speedster Replica, 1993 Porsche RS America (#14 of 701 lightweight 911, 4 of 4 factory options), Ferrari 328 GTS, 2007 Shelby GT 500, 1963 Chevrolet Corvette, 1981 Delorean Model A, 1950 Riley RMC, 2009 Birkin/Lotus, and a 1965 Cobra, one of at least 17 on display on Saturday. On the more unique end of the spectrum, there will be a 2006 Aerial Atom II – a rare, open framed street legal race car. Awards will be given at 2:00 p.m. in each category.
Several modern airplanes will also be open for touring by the public, and a few airplanes will be flying in during the event as part of the "fly-in" component of the show. According to Director of Operations Julie Miller, aircraft displayed will include an Eclipse, a Pilatus PC12 (2), a Husky C-205, C-210 and C-185, a Columbia 400, a G-550, a PC 7, a Glider, an Xtra, a Diamond, a Waco, and 2-3 T-282 National Guard Helicopter. Tours of the helicopters will be given to the public by National Guard members and "fly overs" will also take place. Several classic motorcycles will be displayed as well.
On Saturday, Member from the Eagle County Ambulance District will be giving tours of the ECAD bus and have handouts for kids. Members of the ECAD team will be interacting with anyone who has questions or is interested in learning more about ECAD.
Saturday's event at the Vail Valley Jet Center Center is open to the public 10:00 a.m. – 3:00 p.m. and costs $5 for adults. The event is free for kids under the age of 12. At 2:00 p.m., participants will be given awards for the best in each class as well as the best in show. Food will be available on Saturday from The Dusty Boot and Fly Away Catering by Joe Keegan. It is an alcohol free event, and attendees are asked to leave their pets at home.
The day will end with participants and sponsors taking a Mountain Cruise along Highway 6 from the Vail Valley Jet Center to Restaurant Avondale at the Westin Riverfront Resort & Spa.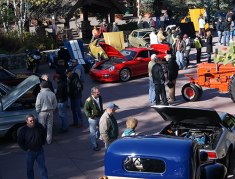 Sunday's show of cars will take place throughout the cobblestone streets of Vail Village. "We are truly looking forward to hosting some world class cars in our own world class resort," said Vail Event Manager Richard TenBraak. "I can't think of a more beautiful place for this kind of show than Vail, and everyone can enjoy the Vail Farmer's Market and Oktoberfest in Lionshead at the same time."
Co-founder and organizer Don Welch thanked generous sponsors The Vail Valley Jet Center, the Vail Mountaineer, the Vail Daily, Plum TV, the Vail Valley Medical Center, The Busted Knuckle Garage, Wells Fargo, KZYR and the Valley radio stations, Vail Honeywagon, Liberty Skis, KTC Consulting LLC, Land Rover Roaring Fork, Matco Tools, Meadow Creek Tire, Big Steve's Towing & Recovery, The Town of Gypsum, Carquest Auto Parts, TV8, Mistral-Avalon Vail and Beaver Creek, Echo Vail Resorts, Eef Productions, Vail HangAir and the Vail Chamber & Business Association.
Several hotels and resorts are offering special discounts on lodging in the Vail Valley, including the Westin Riverfront Resort & Spa at the base of Beaver Creek, the AmericInn and Holiday Inn Express in Eagle, and Tivoli Lodge in Vail.
The Vail Automotive Classic's First Wheels and Wings Show has something for everyone this September 11-12, 2010. For more information, call (970) 376-1299 or visit www.vailautomotiveclassic.com.
---

509 Comments on "Vail Automotive Classic features vintage planes, cars and motorcycles at Jet Center and in Vail Village"