Vail's own Sarah Schleper leads rookie 'Legends' class at Korbel American Ski Classic
To say that the freshman class of Volvo Legends of Skiing at this year's 30th anniversary Korbel American Ski Classic comes in on the fast track would definitely be an understatement.
Heading up the list of "new" Legends will be a pair of racers fresh off the World Cup tour in Vail's own Sarah Schleper and newly retired Swedish racer Patrick Jaerbyn, who calls Edwards home. Add Liectenstein's Marco Buechel to this list and you have a trio with speed to spare.
"We are absolutely thrilled to have Sarah, Patrik and Marco join us for the 2012 Korbel American Ski Classic," explained Michael Imhof, Vice President of Sales and Operations for the Vail Valley Foundation. "The fact that Sarah and Patrik also call the Vail Valley home is icing on the cake as they have literally grown up with the Korbel American Ski Classic, especially Sarah. Because of this bond, I know we all felt a little bit closer to the action when they were racing on the World Cup."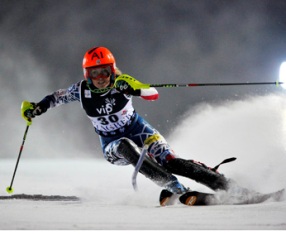 Schleper began racing with Ski Club Vail at age 11 and, just five years later, made her World Cup debut … in Vail. The only American female four-time alpine Olympian, Schleper, missed the 2007 season to rehab from ACL surgery and spent 2008 welcoming her son Lasse into the world with her husband Federico Gaxiola.
She announced her retirement shortly before competing in her last World Cup slalom on December 29 of 2011 in Lienz, Austria, stopping halfway down the course to pick up Lasse and carry him to the finish in her arms. During the course of her 15-year career, Schleper recorded four podium appearances, including a 2005 slalom win in Lenzerheide, Switzerland.
Jaerbyn's final World Cup race came earlier this month in Kvitfjell, Norway. During the course of his 18-year career, the Swede collected a pair of World Championship medals, with a silver in Super-G at the 1996 Championships in Sierra Nevada, Spain and a downhill bronze in 2007 in Are, Sweden.
The 2007 podium appearance distinguished him as the oldest racer to ever win a World Championships medal at 38 years old. He recorded a trio of World Cup podium appearances during his tenure on the White Circus, all three coming in Super-G.
Buechel was one of the world's best skiers prior to his retirement from the World Cup circuit at the conclusion of the 2010 campaign. A veteran of six World Alpine Ski Championships, he captured the silver medal in Giant Slalom at the 1999 Worlds in Vail and Beaver Creek. During the course of his 14 years on the World Cup, he claimed a total of four victories, two in Downhill and two in Super-G.
Beaver Creek's Birds of Prey racecourse also holds special significance for Buechel as the 40-year-old started racing Super-G, and eventually Downhill, at Birds of Prey in 2000…on a bet. At the Audi Birds of Prey World Cup races earlier this winter, Buechel watched the competition from a different vantage point — with a shovel in his hand as a member of the Talon Crew, the volunteer racecourse team.
The Legends of Skiing will compete in the Volvo Legends Giant Slalom on Thursday, March 22, at Vail Mountain's Golden Peak. They will then take on the role of team captains for the Korbel Ford Cup celebrity team races, contested on Friday and Saturday, March 23-24, also at Golden Peak.
The Korbel California Champagne American Ski Classic is a project of the Vail Valley Foundation. For additional information on the Korbel California Champagne American Ski Classic, visit www.vvf.org.
---

0 Comments on "Vail's own Sarah Schleper leads rookie 'Legends' class at Korbel American Ski Classic"
Be the first to comment below.