Vilar Center brings big names to Beaver Creek in March, April
The Vail Valley Foundation's Vilar Performing Arts Center (VPAC) brings world class talent to its stage in Beaver Creek during March and April.
Chris Isaak honors the roots of rock n' roll as he brings his latest album, Beyond the Sun, to the stage tonight (March 13) at 7:30 p.m. Released in October 2011, Beyond the Sun is the album Isaak has always wanted to make. During this concert, he will share his lifelong obsession with the glory days of Memphis's Sun Studio and pay tribute to the visionary artists who got their starts there. With songs like "Can't Help Falling in Love," "Great Balls of Fire," "Ring of Fire," "It's Now or Never" and more from his new Beyond the Sun, Isaak will magically recapture the transformative hepcat brilliance of the classic sides cut by Sun Studio greats. He will also play his original hits "Wicked Game," "Baby Did A Bad, Bad Thing," "Somebody's Crying" and "San Francisco Days," getting down to the heart and soul of his own deeply rooted musical identity. Tickets range from $98 - $135, depending on seating.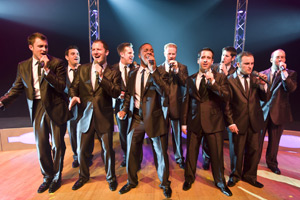 Piano virtuoso and three-time Grammy Award-winner Bruce Hornsby will grace the VPAC stage on March 24 at 7:30 p.m. One of contemporary music's most versatile, diverse and collaborative artists, Hornsby will bring his multiple influences together in an intimate, solo concert that will showcase the best of his songwriting and musicianship. Fans will delight in hearing familiar songs like "The End of the Innocence," "The Way It Is," "Mandolin Rain," "The Valley Road" and "Every Little Kiss." But be ready for surprises: Hornsby is known for an artistic curiosity that leads him to look at his songs in a fresh way, letting them grow and evolve into new works. Tickets are $78.
Join VPAC for an evening of top-notch vocals and playful humor with Straight No Chaser on March 27 at 7:30 p.m. Straight No Chaser is a male a capella group, but think "Glee" instead of "glee club." This group tackles pop, rock and Broadway songs, both contemporary and from the past. You will forget that the group is only using its voices; with its rich harmonies, driving beats, and soaring melodies, you will swear that there is a band somewhere in the wings. Originally formed over a dozen years ago while students together at Indiana University, the group has reassembled and reemerged as a phenomenon - with a massive fanbase, more than 20 million views on YouTube, numerous national TV appearances and a reputation as an unforgettable live act. Tickets are $65.
On April 6 at 7:30 p.m., VPAC welcomes the Grammy Award-winning quartet Béla Fleck & The Flecktones to the stage. Groundbreaking banjoist, composer and bandleader Béla Fleck recently reconvened the original Béla Fleck & The Flecktones to bring to audiences around the world the band's unique hybrid of some of the most compelling musical genres. With all manner of genres in play - from classical and jazz to bluegrass and African music to electric blues and Eastern European folk dances - Béla Fleck & The Flecktones is impossible to pigeonhole. Audiences must experience for themselves this unique sound that is all the Flecktones's own, a meeting of musical minds that remains indescribable. The original Flecktones have reunited after nearly two decades of pursuing other musical endeavors, but don't think that the reunited Flecktones are rooted in nostalgia. These consummate musical artists continue to drive the music forward to new places for a show that is not to miss. Tickets range from $68 - $78, depending on seating.
The VPAC is located in Beaver Creek Village at 68 Avondale Lane. Tickets for all performances are available online at vilarpac.org, by phone at 888-920-ARTS (2787), or in person at the VPAC Box Office in Beaver Creek or the Marketplace Box Office in Vail Village.
The VPAC is a project of the Vail Valley Foundation. For more information on the Vail Valley Foundation, visit www.vvf.org.
---

8 Comments on "Vilar Center brings big names to Beaver Creek in March, April"