Sip, Slide & Sample highlights new events at 22nd annual Taste of Vail
The 22nd Annual Taste of Vail provides guests with three days of educational seminars, engaging events and interactive programming that highlight the area's culinary offerings, as well as the Vail lifestyle.
New this year is a program called Sip, Slide & Sample, which allows festival-goers the opportunity to ski on the mountain with winemakers followed by a small, intimate tasting in the Village. This event is one of the many smaller, more personal seminars offered throughout the annual spring food and wine festival, which is schedule April 5-7, 2012. Seminar ticket prices begin at $45 per person.
The event kicks off on Thursday, April 5 with the Colorado Lamb Cook-off and Après Ski Tasting from 3:30 to 6:30 p.m. in Vail Village. Festival participants can move to the Tap Room in Vail Village for Davidoff Cigars & Craft Distiller Liquors from 6:30 to 8 p.m. Cigar and liquor representatives will be on hand pairing the two renowned products. Tickets are $50 per person for the cigar event.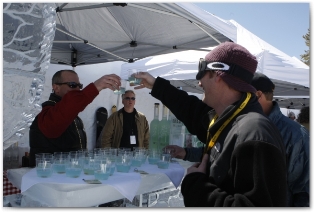 Skiers have two opportunities to Sip, Slide & Sample as the event is offered Friday and Saturday from 9 a.m. to noon. Ski with wine makers such as Jay Christianson from Colorado's own Canyon Wind Cellars. Winemakers will ski on the mountain with guests, then adjourn to a location in the Village or Lionshead to sample their wines and personally discuss production, elements of wine making, etc. Tickets for Sip, Slide & Sample are $50 per person (cost does not include a lift ticket).
Friday also includes Riedel's Vinum Glass Tasting seminar from 10:30 to 11:45 a.m. The Vinum glass collection brings wine varietals to their full potential, which guests will realize during this tasting. The $55 cost for the seminar includes a four-glass set of Vinum wine glasses.
Sipping and sampling returns to the mountain Friday afternoon for the signature Mountaintop Picnic at noon. The event is followed by a Belgian Beer Food Pairing dinner with Riedel glasses from 6:30 to 8:30 p.m. featuring Chef Daniel Joly of Stella Artois and Mirabelle Restaurant. The dinner will pair Stella Artois, Leffe and Hoegaarden beers with Chef Joly's award-winning food. Riedel will feature its Spiegelau beer glasses during this seminar to illustrate how the right glass brings out exceptional flavor in each beer selection. The dinner includes a four-piece set of Spiegelau Beer Connoisseur glasses.
Sip, Slide & Sample starts the day again on Saturday at 9 a.m. or guests may opt to stay off the mountain for Jerry Comfort's Wine & Cheese Pairing Made Simple – The Chemistry Behind the Romance seminar from 11 a.m. to 12:30 p.m. Comfort is the senior manager of wine education for Beringer Vineyards. He has created a tool to help demystify cheese and wine pairing. The seminar will explore the sensory of "flavor" versus "taste" with six cheeses and four wines. The wine and cheese seminar is $45 per person.
The Renaissance of Spanish Wine kicks off Saturday afternoon's seminars from 1:30 to 2:30 p.m. Spain is in the process of reinventing its wine industry and an expert on Spanish wines will be on hand to give seminar participants insight into resurrected varietals, growing areas and visionary wine makers. Participants will have an opportunity to sample some of the quality wines currently being produced out of Spain. The seminar is $50 per person.
If attendees are committed to finding a wine relationship at this year's Taste of Vail, they need look no further than the event's Speed Dating seminar on Saturday from 3 to 4:30 p.m. Start a new love affair with wine as six producers will showcase their finest products. The Speed Dating seminar is $50 per person. After the Speed Dating seminar, the three-day festival rounds out with the annual Grand Tasting event Saturday night at the Vail Marriott.
For more information on the Taste of Vail or this year's seminars, please visit www.tasteofvail.com for updated times, locations and tickets.
Taste of Vail is the nation's premier spring food and wine festival, held at several venues throughout North America's most popular mountain resort. In addition to the new seminars offered during the 22nd Annual Taste of Vail, popular signature events will return such as the 8th Annual Colorado Lamb Cookoff and Apres Ski Tasting, Mountaintop Picnic at 10,350 foot above sea level on Vail Mountain and the Grand Tasting. Ticket can be purchased for $75 for unlimited all-you-can eat and drink lamb and wine. The Mountaintop Picnic is $135 with tickets for the Grand Tasting $175. An all-inclusive Festival Pass also can be purchased for $495,which includes all signature events and seminars.
---

3 Comments on "Sip, Slide & Sample highlights new events at 22nd annual Taste of Vail "