Vilar Center staffers serve up 'Cocktails For A Cause' to support students and the arts
Drinks and door prizes will be the order of the evening Wednesday, September 1, from 5:30-7:30 p.m. as Vilar Performing Arts Center staff members Kris Sabel, Martha Brassel and Jason Denhart move behind the bar at Larkspur for an entertaining evening of "Cocktails For A Cause" to benefit the theatre's STARS (Support The Arts Reaching Students) Program.
Twenty percent of all bar sales will be donated to the STARS Program for new initiatives this winter targeting high school students.
"The STARS Program is a tremendous opportunity for students from throughout our region," explained Kris Sabel, Executive Director of the Vilar Performing Arts Center. "Each year, the Vilar Center provides free transportation and tickets to more than 5,000 Eagle and Lake County students to expose them to the thrill of live performing arts. We hope everyone will stop by Larkspur to see us on Wednesday because it truly is for a great cause."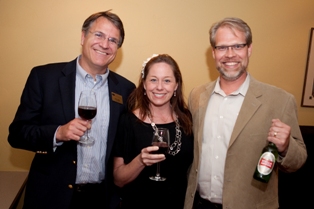 In addition to supporting the performing arts and helping students, participants will also have the opportunity to win numerous door prizes throughout the evening, including $50 and $100 gift certificates from Larkspur, along with a private chef's table for four at the restaurant, which represents a $580 value.
Vilar Center door prizes will include two tickets to a classical music performance at the theatre during the 2010-11 season, a pair of tickets to the winner's choice of Aspen Santa Fe Ballet or Parsons Dance and a Bud Light Underground Sound package for the winter season.
If all this is not enough, participants will also receive double Loyalty Points from Larkspur on any food or drink purchased Wednesday evening. Larkspur is located at the base of Vail Mountain in the Golden Peak Lodge.
The Vilar Performing Arts Center is a project of the Vail Valley Foundation. For additional information on the Vilar Center, visit www.vilarpac.org.
---

1221 Comments on "Vilar Center staffers serve up 'Cocktails For A Cause' to support students and the arts"