Lit to warm up Yukon Kornelius at Vail Snow Daze
Alt rockers Lit have been added to the lineup for Vail Snow Daze, according to organizers of the free festival. Vail Snow Daze runs Dec. 5-11 and also features concerts from rock super group Yukon Kornelius, Guster, Jakob Dylan and Band and The Polish Ambassador.
Known for their major hits like "My Own Worst Enemy," which reached number one on the Billboard Hot Modern Tracks chart, Lit has been on the alternative rock scene for more than 20 years. The band, which has released five studio albums throughout its career, recently finished recording new material for their sixth album. The band will open for Yukon Kornelius on Saturday, Dec. 10, and is sure to play its new material along with their best-known songs.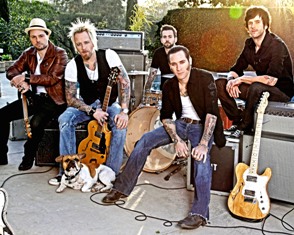 The schedule of activities for Vail Snow Daze will also include the return of the sponsor expo village and gear demos at Demo Daze at the base of the Vista Bahn Dec. 9-11 as well as après and after-dark parties in the Town of Vail throughout the week.
Vail Snow Daze lodging specials are available starting at $120 per night, based on double occupancy. For a comprehensive availability of package rates and specials, go to www.vail.com/snowdaze.
Vail Snow Daze is sponsored by Vail Mountain, Bud Light, Cadillac, SoBe Lifewater, Sprint, Town of Vail and Skiing Magazine, as well as Helly Hansen, Maui Jim, Liberty Skis, Macanudo, Reverb, Sonnenalp Resort of Vail, Vail Daily, TV8 and KZYR-The Zephyr.
For more information on Vail Snow Daze, visit www.vail.com/snowdaze.
---

114 Comments on "Lit to warm up Yukon Kornelius at Vail Snow Daze"