Benefit Kelly Liken dinner raises funds for Vail Valley Foundation's 'Sowing Seeds' educational program
The servers shared the spotlight with the celebrity chef August 20 as Vail restaurateur and "Top Chef's" Kelly Liken joined forces with a quartet of Brush Creek Elementary School students to produce a four-course epicurean delight, all to benefit the Vail Valley Foundation's Sowing Seeds educational initiative.
Hosted by Margie and Tom Gart at their Lake Creek home, the event raised funds for the pilot greenhouse project at Brush Creek Elementary as local couples enjoyed the gourmet dining experience.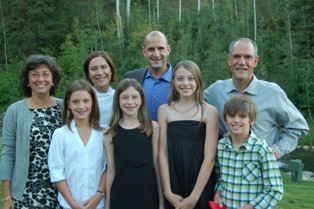 Created in conjunction with Liken, Sowing Seeds students plant and care for their own gardens in the Brush Creek greenhouse. The program not only connects children to their environment, but also fosters an understanding of the origin of food and teaches responsibility through stimulating hands-on activities.
"It was a truly wonderful evening," offered Vail Valley Foundation Director of Education Jean McSpadden, "and we are extremely grateful to the Garts, Kelly Liken and Rick Colomitz and the participating couples for helping to make a difference in the lives of our school children."
Assisting Liken in the kitchen, along with serving appetizers to the guests were Brush Creek Elementary students Clementine Perkins, Abby Fields, Maddy Fields and Christopher Seabury. They were joined by Sandra Story, Director of the Sowing Seeds program, as well as Brush Creek Elementary Principal Anne Heckman.
In addition to the "hands on" experience of helping to prepare and serve, the herbs that Liken utilized in the preparation of the meal were grown in the Brush Creek greenhouse by the students.
The dinner also marked the conclusion of the inaugural Sowing Seeds Summer Camp, a five-day series of educational activities that immersed students in the natural world through games, experiments, crafts and gardening.
"Sowing Seeds is an incredible program," explained Ceil Folz, president of the Vail Valley Foundation, "and we are very excited to have had the opportunity to join forces with Kelly Liken to make this opportunity a reality. We are well aware that many valuable life lessons can be learned outside of the traditional classroom and the success of the program and this dinner are a great testament to that fact."
Sowing Seeds is a project of the Vail Valley Foundation. For additional information on Sowing Seeds or the Foundation, visit www.vvf.org.
---

910 Comments on "Benefit Kelly Liken dinner raises funds for Vail Valley Foundation's 'Sowing Seeds' educational program"