Vail Valley Foundation's Celebrate the Beat program closes out 'Mardi Gras-style' at Red Hill Elementary
Nearly 200 students and 25 staff members will celebrate the culmination of a seven-week residency of the Vail Valley Foundation's Celebrate the Beat program "Mardis Gras style" Thursday evening, October 27, as the inaugural Red Hill Elementary School class rolls out a free recital for family and friends.
Scheduled for a 6 p.m. start in the Gypsum Middle School gymnasium, the Red Hill students will take the audience on a musical and dance journey back through time, with an overall theme of "New Orleans, A City of Resilience".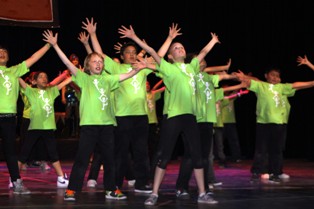 "This is going to be a wonderful and uplifting evening," explained Vail Valley Foundation Director of Education Jean McSpadden. "I guarantee that these students are going to amaze the audience with their performance and all that they have learned. But most importantly, they have learned how to learn. This program and these local children are truly inspiring and I am eager to share the Celebrate the Beat success story with the community through this performance."
The Celebrate the Beat residency featured five classes a day for third through fifth graders at Red Hill. Celebrate the Beat is also firmly entrenched in three other schools for the entire school year, including Homestake Peak School, Avon Elementary School and Berry Creek Middle School.
"The children, teachers and administrators at Red Hill were all thrilled with Celebrate the Beat and feel as if they won the lottery by getting this program," offered Tracy Straus, Director of Celebrate the Beat. "One of the teachers cried with joy at seeing one of her special needs students achieve more than she dreamed possible."
First introduced to Vail in 2007 by Festival director Damian Woetzel as a free Dance Festival educational offering for local children, Celebrate the Beat introduces students to music, dance, art and self-expression, using the award-winning and inspirational National Dance Institute teaching techniques created by Jacques d'Amboise and his staff.
Celebrate the Beat is a project of the Vail Valley Foundation. For more information on Celebrate the Beat and other Vail Valley Foundation education initiatives, visit www.vvf.org. To learn more about how you can support to the Vail Valley Foundation's educational programs, contact Jean McSpadden at (970) 949-1999 or jmcspadden@vvf.org.
---

783 Comments on "Vail Valley Foundation's Celebrate the Beat program closes out 'Mardi Gras-style' at Red Hill Elementary"