GarCo gas patch dealing with various toxins in the air
Increasingly, air quality is becoming almost as hot a topic in Colorado communities near natural gas drilling operations as hydraulic fracturing and the potential for water contamination.
In a lengthy weekend profile in the Glenwood Post Independent, Dee Hoffmeister, a resident of Dry Hollow in gas-rich Garfield County, details her family's long struggle with natural gas drilling fumes and various illnesses she and her children and grandchildren have endured.
Hoffmeister has been battling with Bill Barrett Corp. for six years, trying to get the company to mitigate the effects of three gas wells it drilled near her home in 2005. She's also become a regional and national advocate for good drilling practices.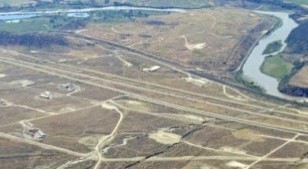 In 2009, she told the Colorado Independent that the Garfield County commissioners should spend a day in her backyard. She urged them, after a screening of the award-winning documentary "Split Estate" to support Colorado Congresswoman Diana DeGette's Fracturing Responsibility and Awareness of Chemicals (FRAC) Act.
"[A pro-FRAC-Act resolution] would make a lot of difference, and the county commissioners, with this movie, it's something to make them sit up and notice," Hoffmeister said at the time.
"If it's not in their backyard, they don't really know what the ramifications are. It's only those of us who have it in our backyard and are sick from it [who know], and this movie is really showing what's going on more than anything."
The Post Independent last week also reported the state has found evidence of potentially deadly levels of hydrogen sulfide gas at Noble Energy drilling rigs in Garfield County in 2009.
Although state officials say there's no current threat to public health, the release of H2S comes as a surprise and occurred at a time when one contract worker was sickened and another died from a heart attack. The contractor was fined by OSHA in the case.
Earlier this month, a community activist captured video of Halliburton employees in Parachute apparently working without respirators in what appeared to be dust from fracking sand. County health officials are looking into that case.
And last month a Global Community Monitor study found at least 22 toxic chemicals, including four known human carcinogens, in nine separate air samples taken near natural gas drilling operations by community advocacy and environmental groups in Garfield and La Plata counties in Colorado and the San Juan Basin of New Mexico.
---

66 Comments on "GarCo gas patch dealing with various toxins in the air"