Bird's eye view of the Vail Valley
I've done some very cool things in my 20 years in the Vail Valley – from snowcat skiing Blue Sky Basin before they ever put chairlifts in to river boarding Shoshone rapids in the Colorado River to solo climbing Mount of the Holy Cross – but by far one of the coolest things I've ever done happened 1,000 feet above the valley floor.
Greg Kelley of Vail Valley Paragliding soars over the Vail Valley
When I paraglided off Bellyache Ridge near Wolcott, all of my fears associated with flying (I get nervous feet and sweaty palms even on a commercial airliner) seemed to evaporate into the cool, crisp Colorado sky.
Paragliding is a sport a lot like hang gliding except that you're not locked into a fixed-wing glider; you're actually attached by Kevlar lines to a nylon paraglider that's a lot more like a shaped parachute. In my case – and the case of most rookie paragliders – I was flying in tandem with a pro.
The anticipation is the worst part, but once all the lines were sorted out, the glider was properly spread out behind us and I started running with veteran paraglider Greg Kelley of Vail Valley Paragliding (VVP), I suddenly realized all my fears were misplaced.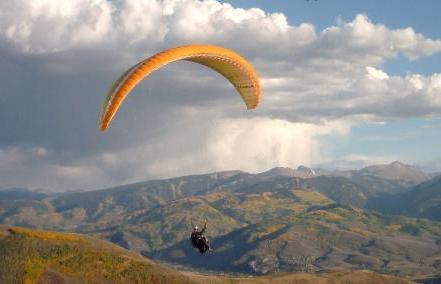 We literally ran off the side of the ridge and gently floated for about 15 blissful minutes above the valley floor, with the Eagle River glistening far below us and still snow-capped peaks jutting up in the distance. Then we came in for a running landing and I instantly wanted to do it again.
VVP offers year-round tandem flights off Bellyache for $175 and longer tandem flights in the summer months only for $225. Call (970) 845-7321 or go to their website.
Editor's note: This blog originally appeared on www.inspirato.com.
---

69 Comments on "Bird's eye view of the Vail Valley"