Record snow year led to record skier visits at Vail
Mountain open one final weekend for snow tubing
Suddenly it's summer in Vail.
One of the snowiest, coldest springs on record has finally given way to more than a week of blissfully balmy temps in the upper 60s and low 70s. But don't tell the folks at Vail's Adventure Ridge that the snow sliding season is finally over.
After offering snow tubing and the Adventure Speedway kids snowmobile track last weekend when the Eagle Bahn Gondola first re-opened for the summer season, Vail Resorts today announced that two final lanes of snow tubing will be on tap for this coming weekend.
The question is whether snow tubing days continue to count toward Vail's record 1.75 million skier days announced today during Vail Resorts' quarterly earnings call. The most snow ever at Mid-Vail translated to the most skiers ever.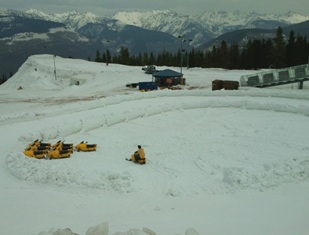 It's interesting to note that there were only seven days where cars poured out of the two town parking garages and onto the state-run South Frontage Road. CDOT and the town have agreed to a limit of 15 Frontage Road parking days (12 in the winter and three in the summer).
So it's clear that between all the major construction projects wrapping up and taking worker vehicles out of the mix and more parking coming online with Solaris, the demand for parking isn't what it used to be -- especially given that Vail has never seen so many skiers in its nearly 50-year history. Vail saw 150,000 more skiers than last season and 5.6 percent more profit.
For the record, Vail had a whopping 524 inches of snow at Mid-Vail last season and a lot of it is still up top at more than 11,000 feet. However, the more seasonal temperatures lately have started what's likely to be a record runoff.
I went rafting with Timberline Tours on the Eagle River between Wolcott and Eagle late last week, and the water was high but certainly not out of control. This week that section is temporarily closed down because the water has come up so much that rafts can't get under some of the bridges.
The runoff will peak in the next week or so, and then the water will gradually come back down to slightly less exciting levels and remain there deep into the summer season (provided a major heat wave doesn't hit in the next few weeks). It promises to be one of the best rafting and kayaking seasons in years.
But if water sports aren't your thing, be sure to head up Vail Mountain. Besides one last blast of snow tubing, there's a climbing wall, bungee trampoline and a dino dig for the kids. And starting this weekend, Adventure Ridge is offering 45-minute trips in an "open air vehicle." Dubbed the Top of the Mountain Tour, the 11-mile loop offers stellar views of the Gore Range, Vail's Back Bowls and 14,000-foot-plus Mount of the Holy Cross.
That's Colorado for you. Slide on the snow about 11,000 feet one day and ride the resulting runoff in the valleys below the next.
The gondola is only open on weekends, until June 23 when it will open on weekdays as well through Sept. 5. Got to www.vail.com or call (970) 754-VAIL (8245) for more information.
A version of this blog first ran on inspirato.com.
---

54 Comments on "Record snow year led to record skier visits at Vail"