Local whitewater outfitters licking their chops over massive snowpack
The enormous snowpack in the mountains surrounding Vail this spring will make for an intense and long-lasting rafting and kayaking season on local rivers and streams, according to Vail-area outfitters.
Lisa Reeder of Timberline Tours says the rafting and kayaking season should last deep into the summer, providing plenty of thrills for snow riders also looking to enjoy the snowpack in its liquid form.
"We have one of the best snowpacks we've ever had," Reeder said, "so we'll have one of the longest seasons we've ever had on Gore Creek and the Eagle River."
Timberline pioneered rafting Gore Creek, the signature stream that bisects Vail Village and runs the length of town. I first ran Gore Creek with Timberline's Billy Mattison back in the early 1990s and then did it again a few years ago, and it's something everyone should check out at least once.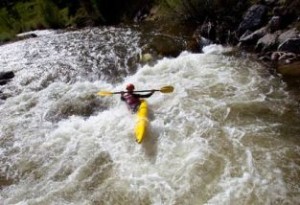 Dubbed high-country creeking, rafting a stream the size of Gore Creek when it's running high and hard for a couple weeks in the spring is a unique experience, showing off the truly wild side of town. Usually the Gore Creek season only lasts a week or two, but it should go much longer this spring. Click here for a story I wrote about the
experience five years ago in the Rocky Mountain News.
Gore Creek flows into the Eagle in Dowd Junction, where a big wave called Dowd Chute is well worth the price of admission. The Eagle's relatively short season will also be lengthened by the record snowpack (nearly 44 feet in Vail this winter) and so-far slow runoff. That could change with one big heat wave, but so far the snowpack up high is still increasing.
The Eagle ultimately flows into the Colorado River at the western edge of Eagle County, and the Colorado has it all, from the relative flat water (Class II and some Class III rapids) of the Upper C section to the massive Class V rapids of Gore Canyon just downriver from Kremmling. And many of the local outfitters also run the Shoshone section of Class III and Class IV waves in scenic Glenwood Canyon.
If you're into kayaking, or want to get into the more aquatically interactive sport, Alpine Quest Sports in Edwards does a great job or providing affordable instruction. I learned from them, and they'll be offering free demos Tuesday evenings from 5-7 p.m. through June 21 at the Vail Whitewater Park on Gore Creek right in the heart of Vail Village.
The big whitewater events this season are the Teva Mountain Games June 2-5 and the Gore Canyon Race Aug. 20 on the Colorado River.
Editor's note: This blog first appeared on inspirato.com.
---

95 Comments on "Local whitewater outfitters licking their chops over massive snowpack"