Things Snowballing in Avon; Ford home for sale (again) at Beaver Creek; Cliquot on the Snow at Vail
OK, so this is when you know you're getting old. You've been living in a ski town half your adult life, a music festival comes to town and you've only vaguely heard of a couple of the acts. I'm talking, of course, about the
Snowball Music Festival
in Avon this weekend.
Apparently some more single-day tickets went on sale today on the festival's website, but all the buzz is centering on just how off-the-hook this thing is going to be, with potentially massive crowds rivaling Avon's annual Fourth of July fireworks show, which is one of the biggest in the state.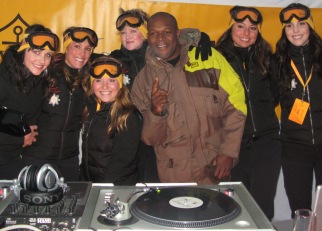 I've sort of kind of heard of some of the headliners -- Pretty Lights on Friday, Bassnectar on Saturday and Flaming Lips on Sunday – but I'm definitely more in tune with Sheryl Crow opening the Vilar Center's summer schedule June 27. That's kind of says it all (about me).
Full disclosure: I saw Crow in the early 90s play Garton's in the now bulldozed Crossroads shopping center in Vail before she was a runaway star. Now she's playing the Vilar Center for $150 a pop or so. This June, by the way, marks my 20th anniversary in Vail. Someone should buy me a Crow ticket to help me celebrate.
Anyway, Avon is going to be crazy this weekend, and the better snow is supposed to be at Beaver Creek, according to Powder Predictor Reid Griebling, so you may want to head that way. Or you may want to flee in abject terror. I'll be skiing Vail Saturday.
O. Bits
More af-Ford-able
While you're at the Beav', see if you can get a showing at the late president Gerald R. Ford's former ski home under the Strawberry Park lift. According to the
AOL Real Estate blog
it's back on the market and has been drastically reduced in price once again.
Originally purchased by Californian Kevin Hayes in 2007 for $6.65 million and remodeled to the tune of another $4 million, the home was listed in 2008 for $14.9 million. Hayes slashed $2 million off that price last year and now has dropped it another $2 million, meaning the asking price of $10.99 million will just barely cover his costs, according to AOL. AOL reports the home, listed by Sotheby's, is 11,629-square feet with 7 bedrooms, 5 baths, 3 half-baths, an indoor pool, hot tub and elevator.
Of course AOL also reports the former Ford home is in Vail and then later says it's in the Vail subdivision of Beaver Creek, so do your own research before you put down a deposit. Beaver Creek is not a subdivision of Vail and is in fact in unincorporated Eagle County 10 miles from the incorporated town of Vail. Just sayin'.
Later days
Speaking of the Beav', the resort shifts to spring operating hours starting Sunday, March 13, with all chairlifts opening at 9 a.m. and closing at 4 p.m. until closing day on April 17. The change keeps lifts open longer to take advantage of the added afternoon sunshine provided by Daylight Savings Time, which kicks in March 13. Three lifts will stay open till 4:30 p.m.: Buckaroo Express Gondola (Lift 1), Centennial Express Lift (Chair 6) and Strawberry Park Express Lift (Chair 12) – the one that goes over the Ford house.
Bubbly blast
More my speed than this weekend's Snowball Festival was last week's "Cliquot on the Snow" event up on Vail Mountain, with adult tubing at Adventure Ridge, all the
Veuve Clicquot
champagne you could drink and DJ Logic. Hosted by the Millennium Society, Vail definitely needs more of these types of events. And the Adventure Ridge tubing? Way faster and much more of an adrenaline rush than I expected (see below video).
Could be good
Snowing in West Vail (a neighborhood in Vail) as I write this at 6 p.m. Powder Predictor says 3-6 inches by Friday. A much bigger (and hopefully colder) storm is lining up for Monday night into Tuesday. Keep your fingers crossed.
---

101 Comments on "Things Snowballing in Avon; Ford home for sale (again) at Beaver Creek; Cliquot on the Snow at Vail"