Yes, Napoleon, that Beaver has large Talons
Everybody loves a challenge, right? Right.
At least that was the case last Saturday at Beaver Creek when roughly 1,500 people of varying disciplines and abilities took on the 2011 Talons Challenge, also known as ski or ride 13 black/double black runs that total a combined 24,026 vertical feet.
Cost of the event was $20+lift ticket, and a portion of the proceeds went to SOS Outreach, a non-profit that helps kids build character and self esteem through outdoor activities.
Complete the challenge and you receive a commemorative pin and hat, plus a free beer and bratwurst.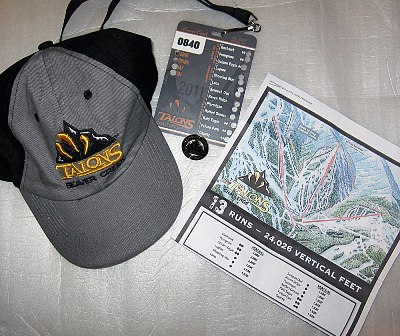 On paper the Talons Challenge sounds brutal. Regulars at Vail Mountain who pay attention to their Epix MIX tracking numbers know that it's basically an all-day affair to log that kind of vert.
Beaver Creek is a different animal. Unlike our beloved Vail, there's limited top-of-run traversing and no long run-outs. That means if you can handle a non-stop diet of long (and in some cases, REALLY long) bump runs, knocking off the Talons Challenge is not as bad as it sounds.
In attempt No. 1 for the Front Ranger, I managed to knock out the lucky 13 in about 4 hours. And if you believe the guy on the PA at the bottom of the Grouse Mountain Express Lift, there were people who did it in about an hour less.
Of course it helps when the snow is down-comforter soft, which was the case last weekend. The overnight report noted 5 inches of fresh. And while most of that had been skied off the day before, there were still enough leftovers to easily dig an edge into. I'd have rather sat in I-70 traffic than ski those 13 runs if it'd been bullet proof.
The key to the Talons Challenge was lift line management. All the runs on the hit list deposit skiers at the Red Tail Camp area, where three lifts and five lift-corral entry points converge.
By 10:30 a.m. both the Grouse Mountain and Larkspur lifts had pretty sizable lines. But if you were willing to spend 10 seconds skating around to the far-side entry point, you could usually shave a few minutes off your line time. If you were on a snowboard, bummer.
It also helped to mix up the hard and not-quite-as-hard runs. My group of five skiers, ages mid-20s to early-50s, would tackle two Grouse Mountain runs (arguably the toughest of the test) then "rest" with a shorter Larkspur descent.
We also saved the Bird of Prey Golden Eagle run (where the annual World Cup race is held) to the end, because though it's knee-buckling steep, it's usually groomed, making for a comparatively tame descent.
I won't lie. By the end the legs were smoked and form had regressed dramatically. But I couldn't help but think that the real Challenge would be doing every one of those 13 runs twice.
Now that, Napoleon, would have some seriously large Talons.

---

724 Comments on "Yes, Napoleon, that Beaver has large Talons"