Snowy weekend in store for Vail, Aspen
Talons Challenge on tap at the Beav'
A quick update on what to expect for the next three days as a strong jet stream brings in active weather for the West.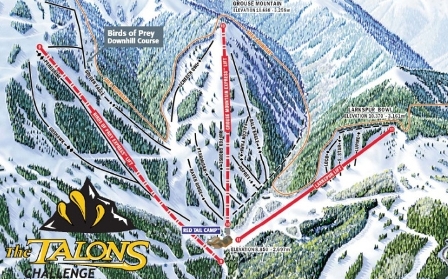 As of today, temps will remain in the 20s during the day, dropping to the teens overnight for the remainder of the weekend. Winds will be gusty and sustained in the 15-25 mph range, with gusts into the 35 mph range at the highest elevations.Snow totals look good as numerous disturbances move through the area with an associated cold front expected to drop south through Colorado during the day on Friday.
Friday morning totals should be modest, with Vail/Beaver Creek expecting 2-4 inches and Aspen/Snowmass a touch higher in the 3-6 inch range, with snow falling during the day Friday.
Saturday's totals should be much higher, although most of the snow will fall during the day on Friday, once again skewing 24-hour totals. Expect Saturday morning totals in the 4-8 inch range at Vail/Beaver Creek, with Aspen/Snowmass in the 6-12 inch range. Vail/Beaver Creek could see as much as a foot fall during the day Friday. Timing is once again the issue.
More snow during the day on Saturday, just in time for the annual
Talons Challenge hosted by Beaver Creek
.
Expect windy conditions and limited visibility on both the Grouse Mountain and Birds of Prey areas of Beaver Creek. Weather begins to calm a bit by Sunday, as the jet stream shifts south.
We see another active pattern by next week, with frequent shots of snow for much of early March. For now, enjoy another round of winter in the Rockies. And for those of you challenging Beaver Creek, good Luck!
Enjoy!
---

228 Comments on "Snowy weekend in store for Vail, Aspen"