Camp Woodward at Copper Mountain: low-consequence avoidance of 'agony of defeat' moments
COPPER MOUNTAIN — After two hours of "progression" work, it's time to take the proverbial big leap inside the 19,400-square-foot building that houses Copper Mountain's Camp Woodward.
But instead of heeding the instructed mantra of positive visualization, my mind has drifted to the infamous opening scenes of ABC's Wide World of Sports. Like any child of the 1970s, the harrowing TV images of Vinko Bogataj's failed ski jump — a.k.a. "The agony of defeat" — is seared into my subconscious.
Now that jump turned iconic pop-culture moment has replaced the successful — and fairly simple — 360-degree spin I'm trying to visualize while staring down at the largest of three jumps that are the centerpiece of this veritable X-Games academy.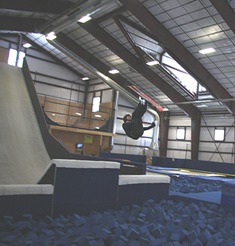 The good news is that no matter how bad I mess up, the consequences are minimal. Instead of the hardpack-snow that left Bogataj bruised and concussed, my ill-fated 360-turned-270 ends with a harmless sideways flop into a six-foot-deep pool of soft foam blocks.
The hardest part of the jump is extracting myself from this cushy landing surface. Five minutes later, I'm back at the top of the jump ready to fly again.
That's the beauty of Camp Woodward. Whether you're a genetically-gifted, 13-year-old Shaun White-wannabe with a real chance at X-Games fame, or a 40-year-old hack who wants to learn a trick that's beyond spread eagle or arm flap, there's a place for you here.
Introductory full-day camp sessions begin with 10 minutes of stretching, before transitioning to basic tumbling skills done on thickly padded floor mats. The day's first big lesson: When flipping, utilize the cowboy tuck with knees pulled away from your face.
"That way you won't hit your face with your knees," explains instructor Peter O'Brien, a 24-year-old from Michigan who when not teaching inside the Woodward Barn can be found throwing any number of jaw-dropping tricks at one of Copper Mountain's three progressively more challenging terrain parks. Later in the day, when class moves outside to the slopes to apply what we've learned, O'Brien executes perfect front and back flips.
No one in our class of three (two 40-somethings and a 12-year-old from Kansas) is ready to attempt such tricks just yet. Instead we move from basic tumbling to bouncing on ultra-springy trampolines, further honing what Woodward day camp literature calls "aerial awareness."
The idea is to get away from the "huck and hope method," and instead provide structured progressive learning that helps build skills and confidence.
"It's a safer way to learn," adds O'Brien. "You have the chance to perfect a trick before taking it outside where consequences go up."
The trampoline session starts with simple bouncing, then progress to the point where all three students are comfortably performing front flips from trampoline into the adjacent foam pit. (In total, the facility's three landing areas are filled with 23,000 blue foam blocks.)
Next, ski or snowboard gear, including mandatory helmets, is strapped on, and each pupil takes several safety runs to get comfortable on the synthetic Snowflex surface, which feels like very stiff artificial turf. Once basic sliding is mastered, it's time to jump.
Flash forward, and after shaking off my "agony of defeat" fears and successfully completing several full 360s, O'Brien suggests I attempt a back flip. "The jump is perfect for it," he assures. "Even if you land on your head you'll be fine."
Turns out he's half right. There's nothing perfect about my jump, but after landing head first in the foam pit I am just fine. If only Vinko Bogataj could have trained at Camp Woodward.
Note: This story originally ran in the Boulder Daily Camera Newspaper
MORE INFO
Website: www.woodwardatcopper.com
Phone: 888-350-1544
Day Camp Cost: $169.99 (includes lift ticket, lunch and access to outdoor jump with airbag landing zone)
---

32 Comments on "Camp Woodward at Copper Mountain: low-consequence avoidance of 'agony of defeat' moments"