Vail basking in springtime after last week's Arctic blast, but ski season has to stretch until late April
Olympic gold medalist Ted Ligety, of Park City, Utah, writing from the 2011 FIS World Alpine Ski Championships in Garmisch on Monday, wonder aloud in
today's Denver Post
what many of us here in Colorado have been scratching our heads about this week: What happened to winter?
Here's his lead from today's column: "GARMISCH-PARTENKIRCHEN, Germany — The
snow conditions have been a big part of the story
here at the world alpine championships. It was 53 degrees when I left the finish area after the men's super-combined Monday, and I was in a T-shirt all day."
Well Ted, it was 50 degrees when I drove into Edwards Monday afternoon to pick up my kids from school. Edwards is at about 7,000 feet in elevation. You can see the ski slopes of Arrowhead, which are connected to Beaver Creek, where you won a World Cup race in December. It's hot all over.
Just last week we were at the tail end of a five-day snow cycle in the Vail Valley that dumped 41 inches of new snow and gripped the area in bitter cold temperatures. I have the patches of frost nip on my cheeks to prove it (when the snow is that good on the hill, you simply don't stay inside, no matter how cold it is). But now we're broiling in full-on springtime.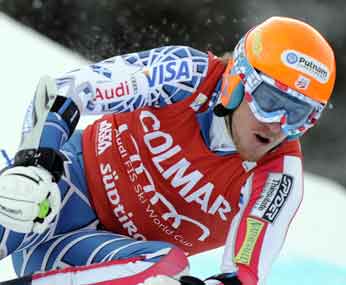 A week ago we were skiing in five-below temps. This week Vail is basking in the mid-40s. That's a 50-degree temperature swing, and those kind of wild fluctuations are what some climate scientists believe best typify global climate change. It's not that we never have cold temperatures or snow (which actually can be more abundant in warmer temps), it's that we don't see the kinds of long, sustained cold snaps that can do things like kill of mountain pine park beetles.
A lot of politicians, including the
Republican members of Colorado's congressional delegation
, believe climate change is not statistically significant enough to make the financial sacrifices necessary to diversify the nation's power supply and move toward cleaner-burning fuel sources. They're battling to keep the EPA from regulating greenhouse gas emissions under the Clean Air Act.
Former Republican Colorado Congressman Bob Schaffer, a U.S. Senate candidate who lost to Democrat Mark Udall in 2008, tweeted this during the last big snowstorm to hit Denver and the Front Range: "Colorado school's shut down 2nd day in a row due to weather. How will kids learn about global warming if they're not in school?"
The kids can actually learn a lot from ski racers like Ligety, or just people who live in mountain communities. When you chase snow for a living, you see climate change at work on a daily basis. Even as certain species have to move to higher and higher elevations to find cooler temps in order to survive, winter resorts at lower elevations in the Alps and other parts of the world are becoming less and less viable.
"The weather is no surprise, because Garmisch typically has warmer conditions," Ligety wrote. "It's at a low altitude — the downhill drops from 5,545 feet above sea level to 2,526 feet — and it's located right where the mountains start. Ten kilometers outside of town, it's dead flat.
"The hills are cool, and Garmisch has a great racing history and tradition, but there always seem to be questionable conditions."
Ligety told me much the same about Whistler after last year's Winter Olympics
, and he politely questioned holding the next Games at a somewhat low-elevation coastal venue like Sochi, Russia, in 2014. He said there will clearly be challenges that racers and course workers likely would not face at higher elevations in areas like the interior American West.
As I was riding a chairlift in the frigid temps last week at Vail (top elevation more than 11,000 feet), huddled deep down into my neck gator and counting the seconds until I could warm myself back up by skiing again, I overheard my fellow passengers speculating on whether the abundant snowfall (322 inches at Vail so far this season) would prompt the ski company to stay open longer.
I laughed to myself because I've been living in Vail 20 years now and know that things can turn on a dime. We have had amazing snow seasons suddenly end in early March before winter is even officially over. And last season it was dry and warm most of the season until it started snowing on April 1 and then seemingly didn't stop until June.
Generally, though, the trend has been toward shorter ski seasons on either end, and this season will be a real test given that Easter Sunday – a huge ski vacation holiday for key Latin American markets – falls so late on the calendar.
Vail is keeping its fingers crossed and hoping we can make it till Sunday, April 24. And if it's not like last year, with plenty of late-season snow, at least we'll have lots of free music to divert everyone's attention from looming golf and beach weather.
The
free Spring Back to Vail concert series will start on Friday, April 15
, and run through that closing day on Sunday, April 24. Ten days and nights of free music and events in Vail to wrap up what has already been a stellar season in Vail. Hopefully we'll go out with a bang like last season and not the more common whimper we've seen the past few years.
---

27 Comments on "Vail basking in springtime after last week's Arctic blast, but ski season has to stretch until late April"