Vail sees surprise plastering of well over a foot of new snow
Heavy snow still falling Saturday night, meaning Sunday will be more than super in Back Bowls
Vail got a stupid amount of snow overnight Friday and during the day Saturday. And it was still snowing hard as I wrote this around 8 p.m. – a good five hours after the chairlifts shut down in the Back Bowls. So Sunday should be just as good, or better, than it was up there Saturday.
The official snow report Saturday at 5 a.m. was 7 inches, but by the time we got on the hill several hours later it had clearly snowed several more inches. Still, my wife Kristin and I were not prepared for how deep it was when we plunged into Faro Glade in Game Creek Bowl for our first run.
It was definitely knee deep and even thigh deep in places. Clearly more than a foot and pushing a foot and half. Visibility sucked and it was blowing and snowing hard. But it didn't matter. Easily one of the better runs of the day on one of the better days of the season.
We went from there to Seldom in Sun Dow Bowl, followed by Emperor's Choice, Rasputins, Red Square and Genghis Khan – all in China Bowl – and then down the front side to lunch at Blu's in Vail Village. Hadn't been there in a while, and we were glad we reconnected.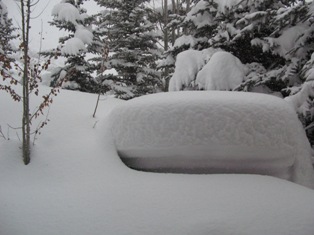 The Chinese tootsie rolls are no longer plus-sized and look a bit more like a traditional cream cheese wanton, but they were delicious, and so was the Asian tuna sandwich in a killer wasabi sauce. Kristin had the green chili, served hot and spicy and a perfect call on blowing, snowing and bone-chilling day.
But the deep powder beckoned us back up on the hill. Our stomachs full, we headed straight for the backside and got in one more stellar run on Wow before coming back down the front side to grab the kids from ski school.
Our oldest son has another day of Devo Sunday, so I may have to drop him and take a few more runs. If you're having any doubts about coming up tomorrow, forget about it and get in the car. The skiing will be absolutely amazing.
I love when our Powder Predictor, Reid Griebling, blows his forecast so completely in our favor. He was calling for a few inches Saturday, with most of the heavy snow from this system moving in Sunday into Monday. Hopefully this is such a huge storm that it just keeps dumping until Tuesday.
But the big plastering on Saturday may just mean the heavy stuff came a day or so early. Regardless, forget about football. We're experiencing our own Super Bowl of powder up here tomorrow.
Besides, the game doesn't start till 4:30 anyway, long after the lifts have shut down. Get out there and get some.


---

145 Comments on "Vail sees surprise plastering of well over a foot of new snow"