Memorable week of powder skiing has Vail on pace for fourth best season ever
What an incredible week of powder skiing in the Vail Valley. It started last Monday, on MLK Day, when high winds and pounding snow made for a late-morning rope drop in the Back Bowls. Believe me, it was worth the wait.
Every day after that got successively better, culminating (for me) on Saturday with an absolute whiteout that had most of the Back Bowls shut down – again, for high winds – until late afternoon. Blue Sky Basin never opened.
But someone's pain is always someone else's pleasure, and snow riders who got out early Sunday were greeted with a foot and half of new snow in Blue Sky and weather conditions to match the moniker. I wasn't able to get out Sunday, but heard it was very good.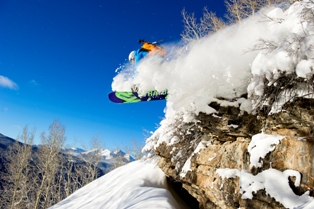 Now it looks like things will settle down a bit this week, with an inch or two expected from a small storm this morning (Monday) and another weak front Tuesday into Wednesday. Again, we're looking at just an inch or two. Then the rest of the week warms up and dries out.
So those of you who were putting off laundry, work, relationships, whatever, in order to get up on the hill and ride silly amounts of powder , you can take the next week to put your life back together.
The final tally was nearly four feet of new snow last week, bringing Vail into historical territory. We have now had 270 inches of snow so far this season, the fourth best historical total at this point in the season (dating back to 1963-64). Keep in mind, we're just 80 inches shy of our seasonal average of 350 inches, or just under 30 feet, and there are still three months of skiing left. Here's a release from Vail Resorts on the topic:
Consistent winter storms have brought incredible powder to skiers and snowboarders at Vail with more than 270 inches of snowfall reported at mid-mountain this season, including more than a foot of fresh snow reported this morning, Sunday, Jan. 23. As of today:
• this is the fourth best season-to-date snowfall in Vail's history,
• snowfall this season to date is at more than 50 percent or nearly eight feet above Vail's average at the top of the mountain, dating back as far as records exist to the 1963-1964 season, the second season Vail was open; and
• compared to the 2009-2010 season, Vail's total snowfall is more than double what it was at this time last year at mid-mountain.
"With the help of Mother Nature this season, it's difficult to remember better conditions in my 25 years with Vail," said Chris Jarnot, senior vice president and chief operating officer for Vail Mountain.
Very true. Here are a couple of videos of the week's action, the first one well-produced by our Powder Predictor, Reid Griebling, using his new helmet cam, and the second one not so well-produced in Blue Sky Basin by a guy I met on the chairlift using my Canon G3:




---

84 Comments on "Memorable week of powder skiing has Vail on pace for fourth best season ever"