Colorado Ski Country issues new edition of Lost Resorts poster
Not sure why the good folks at Colorado Ski Country USA waited until after Christmas to start selling this commemorative poster, but that does nothing to diminish the cool factor of the new Lost Resorts poster, which was released in a second edition on December 28.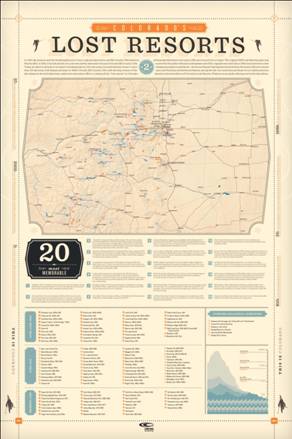 The poster, with its old-time map motif, pinpoints 169 Colorado ski areas, the vast majority of which are no longer in operation. Active or not, the map details each resort's location and gives a brief description.

From larger resorts with multiple lifts, to small, mom-and-pop operations with only a rope tow, the poster documents the rise and fall of some of Colorado's most storied ski areas.
Underneath the map is a list of the 20 "most memorable" resorts and a few notes about each. The remaining resorts are broken down into three categories: Recently Lost, Lost Long Ago and Lost Long Long Ago.

There is also lots of great ski-history trivia, such as the price of a season pass at Climax on Freemont Pass in 1936 ($10), the distance from the ground of the state's first chairlift (3 feet), and the amount of terrain rated "most difficult" at defunct Hidden Valley ski resort which operated near Estes Park from the mid 1950s to 1991 (70 percent).

The original Lost Resorts poster was created in 1999 by Colorado Ski Country USA with input from ski historians. In similar collaboration, some notable discoveries have been accounted for on this second edition. Updates include finding one lost resort, the opening of a new resort and two resorts joining the lost.

"We thought it was important to continue telling the story of our state's ski history since it is such an integral part of Colorado's culture," explains CSCUSA CEO Melanie Mills in a press release. "The Lost Resorts poster captures the narrative of the ski industry in a way that gives lasting tribute to ski areas that are now a part of the past."
A limited number of the 24x36 posters are available for $19.99, plus shipping and handling. For more info visit CSCUSA's website at www.ShopColoradoSki.com or call 303-837-0793.
---

551 Comments on "Colorado Ski Country issues new edition of Lost Resorts poster "