Montezuma's Revenge (the good kind)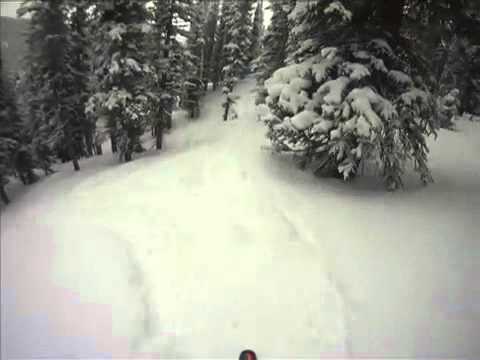 The beauty – and sometimes curse – of having what Coloradans affectionately know as the Five Mountain Pass is the options it avails.
Pass holders are exceptionally lucky to have so many great skiing choices (Vail, Beaver Creek, Breckenridge, Keystone and Arapahoe Basin) in such close proximately (the 52-mile drive from Beaver Creek to A-Basin is the greatest distance between any two "Five Mountain" resorts).
But occasionally this can make life complicated, like when half your friends want to go to Vail and the other half want to rip Breckenridge. Of course this is all said with tongue firmly tucked in check, as this really isn't a problem at all.
The point of this diatribe? Last Saturday there was no debate, at least not after receiving a short e-mail from the folks over at Arapahoe Basin, which read in part that after receiving "over 100 inches of snow since opening day in October" that Montezuma Bowl would be welcoming its earliest opening in its four-year history. That meant a guaranteed powder day no matter what the snow gods delivered Friday night.
For those unfamiliar, Montezuma Bowl is the intermediate/expert backside of A-Basin that opened in January 2008, expanding the area's terrain by 80 percent. No, it doesn't measure up to the grand scale of Vail's behemoth Back Bowls. But 'Zuma does serve up a nice mix of bowl, tree, glade and steeps skiing, and usually holds untracked stashes well after the Basin's frontside gets carved up like a Christmas hog.
Turns out Saturday was day No. 1 of what became an absolutely epic storm for nearly all of Colorado's ski resorts. A-Basin reported 3 new inches overnight, and as of Tuesday afternoon this mid-December monster hadn't let up, delivering 9, 9 and 8 new inches respectively in the ensuing three days.
As expected, the skiing in Montezuma was — and continues to be — out of this world. On opening day there was boot deep just about everywhere you pointed your boards (or board), and crowds were surprisingly light. [To see for yourself, check out this POV video]
The only caveat was to be on the lookout for the occasional landmine tree stump, rock or other barely hidden obstacle, which is to be expected when there's no firm base in place.
But following the December dump, those base issues (at the Basin and everywhere else) are just about all covered up. And that means the only remaining problem will be the ongoing where-to-go debate — which isn't a bad problem to have.
---

377 Comments on "Montezuma's Revenge (the good kind)"