With Birds of Prey races coming to a close in Beaver Creek, it's Vail's turn to light up the scene
Snow Daze arrives along with wintry weather
Race weekend is over at Beaver Creek, and the U.S. men were not skunked, as Ted "Shred" Ligety took the giant slalom win on Sunday.
After a World Cup weekend of bizarre weather and above-normal temps, soft snow had snow riders wondering if it was December or March, as spring conditions have been the norm for the past three days.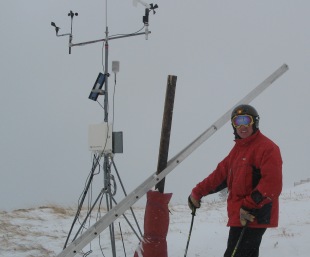 Winter will again be on tap as moisture moves into Colorado under a southwest flow. Partly cloudy skies this morning will turn cloudy as temps drop and winds increase.
By this evening snow will be falling, continuing overnight into Tuesday. Snow totals for Tuesday morning look moderate, as Aspen/Snowmass may have the best shot at a powder day under a favorable flow.
Expect 6-8 inches on the ground in Aspen by Tuesday morning, with Vail in the 4-5 inch range. Beaver Creek should see higher totals(5-8 inches) than Vail as southwest flow impacts The Beav' first.
Winds will shift to the northwest Tuesday as this storm moves through, leaving Vail with lingering showers and additional snow. Winds will be gusty with 15-25 mph expected on-mountain and gusts into the 40 mph range over ridge tops.
Temps will return to normal, with low 20s expected during the day today and overnight lows in the teens. Tuesday's temps will be colder, with on-mountain highs barely reaching the 20's.
A lull in the action mid-week before a more powerful system arrives in time for Vail's Snow Daze (Dec. 9-12) festival. This next storm looks to impact all of Colorado, with most resorts piling up more snow before the Christmas holiday.
For those of you concerned with Vail's weather and data system, it has been moved from the Look Ma run to make room for a high-end restaurant.
Vail security's Rick Johnson told me, " The new location is at the same altitude as previous; we just moved it west." It's now just east of the Lodgepole run near Adventure Ridge.
This information matters to us weather nerds, as Vail is a large mountain spanning nearly six miles from west-to-east. And with many different convergence zones leading to the Gore Range, snow totals can differ from what is reported depending on which part of the mountain you ride.
For instance, the 6 & 24 convergence zone rides along highway 6 & 24 leading southeast to Minturn and Red Cliff. Blue Sky Basin is only two miles from Red Cliff, meaning a reported 9-inch powder day at Lionshead could mean a 15-inch day in Blue Sky Basin.
Likewise, a northwest flow over I-70 (also a convergence zone) could mean a 9-inch day in Lionshead and a 4-inch day in Blue Sky Basin.
Beaver Creek is a much smaller mountain, and weather data is collected at the eastern point of the resort, giving The Beav' a much more consistent report.
The same holds true for the Roaring Fork Valley, as numerous convergence zones lead into Ajax and Aspen Highlands. I am not as familiar with Aspen/Snowmass, but nature tells me that a 10-inch day at Aspen Highlands, doesn't necessarily mean a 10-inch day at Snowmass, and vice versa.
In years past there have been arguments that resorts "pad" their snow totals for marketing reasons. This may hold true, but for a mountain as big as Vail (and Snowmass for that matter), consistent snow reporting is almost impossible.
My point is, take the morning snow report with a grain of salt, as it is possible to find more or less snow than is actually reported.
My job as the Powder Predictor is to lead readers in the right direction at both Vail and Beaver Creek, giving you the optimal information of the terrain you like to ride. Comments are always welcomed, in fact, we at Real Vail love them.
If you have questions or concerns, please feel free to drop us a line under the blog, as we check in on the site often during the day.
Enjoy!
---

294 Comments on "With Birds of Prey races coming to a close in Beaver Creek, it's Vail's turn to light up the scene"