Great early conditions at Vail, Beaver Creek, but be careful in the trees, backcountry
Wolf Creek death a real tragedy for state's southern retro resort and perennial snowfall champ
There's much to celebrate so far this ski season – tons of early snow in the northern and central mountains, resorts like Vail and Beaver Creek opening with an unusual amount of early season terrain – but after Monday's tragic avalanche death at Wolf Creek, there is also much to be sad (and cautious) about.
Avalanche danger remains considerable in the Vail area despite a blizzard that was forecast for Tuesday night not quite packing the expected punch. It started snowing lightly in West Vail around midnight, but only two inches of new snow had fallen on Vail Mountain as of 5 a.m. – three inches at Beaver Creek, which opens today.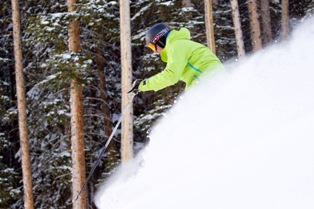 But it was still snowing quite hard as I wrote this at 8 this morning, with at least another inch or two since the 5 a.m. report and another 8-10 inches possible during the day. The anticipated high winds didn't seem to materialize overnight, however, at least on the valley floors in Eagle County. Vail opens Golden Peak, China Bowl and Tea Cup Bowl today, taking its
total skiable acreage to nearly 2,800
.
I got out for Day 3 of my 2010-11 ski season on Monday, making fresh turns in Vail's Game Creek Bowl (still quite a few sticks and bushes poking up in Faro Glade, but incredible it's even open this early) after nearly nine inches of new snow fell Sunday into Monday. I also plunged into Head Wall in Sun Up Bowl with some mixed results, mostly good.
All in all that day, front side runs close to the trees (like skier's left on Highline) were the best bet. The winds were howling up top Monday, making backcountry travel somewhat dicey. We also had big dumps earlier in the month followed by super-warm temps. I would use extreme caution out there, especially given all the early season hazards hidden just under the snow. Same applies for venturing into the trees in-bounds. And be sure to check the
Colorado Avalanche Information Center website
early and often.
At
Wolf Creek Monday
, Ski Patrol director Scott Kay, a U.S. Marine Gulf War veteran, husband and father of two young boys, died in a slide in an in-bounds avalanche chute while doing routine avalanche control work.
According to the
Colorado Avalanche Information Center (CAIC
), Kay's death is the eighth avalanche fatality for a Colorado ski patroller since 1950, 19th in the United States. The 41-year-old's death is sad for a lot of reasons, but it's a real blow to a throw-back, retro classic of a ski area that many Vail Valley locals venture down to in the fall because it always seems to have more snow than we do.
That's not the case this season so far, but rest assured Wolf Creek will wind up with more than 450 inches of seasonal snowfall, while Vail and Beaver Creek tend to linger in the more earthly 350 range.
It was a similar season back in 2005 when I went down to Wolf Creek, which at one point dropped out of the state trade group, Colorado Ski County USA, when it seemed to have more in common with Arizona and New Mexico resorts (and markets). But owner Davey Pitcher rejoined that group and took the time to ski with a Vail-area writer on that trip. I had a great time, and Wolf Creek will always hold a special place in all of our hearts – even more so after Monday's tragedy.
Here's the story that I wrote after that trip. It appeared in the now-defunct Rocky Mountain News in 2005 (so some time elements will be way off), but I couldn't it on the RMN archive site, so apologies for the lack of a link:
Wolf Creek remains a rural, retro classic
Some see change as inevitable, but Pitcher family vows to stay the course
By David O. Williams
Special to the Rocky Mountain News
WOLF CREEK SKI AREA – But for the buttresses of Sangre de Cristo Mountains looming as an impressive backdrop, the flatlanders who comprise the bulk of this southern Colorado classic's clientele might feel right at home crossing the farm country of the San Luis Valley.
But once they start winding their way up the narrow, cliff-lined gorge formed by the South Fork of the Rio Grande and arrive at 10,300-foot Wolf Creek, they know they're not in Kansas anymore.
Which is actually the third biggest market for Wolf Creek, trailing Oklahoma and by far the area's largest source of skiers, Texas.
"There are more people who know about us in and around Dallas than there are in Denver," said Keith Bratton, owner of the Arbor House bed and breakfast in South Fork, about 17 east of Wolf Creek.
"But that's changing, too, because of the advertising that you've been seeing on Wolf Creek and the development that's supposed to be taking place. We're getting a lot of contacts from Denver now."
So far off the Interstate 70 ski corridor (Wolf Creek is about five hours southwest of Denver) that its owners consider it more a part of the New Mexico ski scene, Wolf Creek is slowly coming onto the radar screen for more mainstream Colorado snow riders.
It's always been a mandatory early-season road trip for diehards from ski towns to the north who can't wait for December dumps to open steeper terrain at their home mountains, but now Wolf Creek's retro feel and uncrowded slopes are attracting even more casual Coloradans who are sick of fighting I-70 traffic.
Part of that has to do with the abundance of snow. The average annual snowfall at Wolf Creek is 465 inches (bolstered by but one snow gun) and, quite often, a lot of it comes in October, when the state's other resorts are still testing their snowmaking systems. Wolf Creek's forthright slogan boasts "The most snow in Colorado," and it's a legitimate claim.
"The whole industry is based on how much snow you get, and it's the age of information, so it's not that hard to find out where the snow is," said Wolf Creek's marketing director Rosanne Haidorfer-Pitcher, who also oversees the ticket office and the ski shop. "When Colorado has really good conditions, it's harder to get people away."
Which might explain the 50 or so snow riders enjoying a sun-baked day Thursday at the Wolf Creek, which, very atypically, is lagging behind the resorts closer to Denver so far this season.
On the same day last season, Wolf Creek had a 43-inch base at its 11,900-foot summit, while the Summit County areas were languishing in the 20's. The opposite is true this season – an anomaly that occurs when Wolf Creek misses the heavy moisture of the late-summer monsoonal flow in October (it mostly fell as rain this season).
Still, nearly a week after the last snowfall, fresh tracks could be found Thursday in the steeps of Montezuma Bowl, a short but challenging drop that deposits into a gladed tree run.
"Our niche is the most snow in Colorado and pseudo backcountry-style skiing," said CEO and President Davey Pitcher, who was out telemarking the area Thursday, checking in with patrollers and trail crews.
"We have a very wide permit with a lot of north-facing slopes, so even during peak periods you can find powder after storms. If you miss the perfect day, you can still find something. And we're sensitive to price point. We try to keep it economically attainable to go skiing - that's out niche."
Even the huge early-season plasterings of the last few years only drew 400 to 500 skiers a day, spread over 1,600 acres. Compare that to the thousands of snow riders who jostle for position on any given day closer to the Front Range.
All of that may change in coming years depending on the progress of a development just down the pass from the ski area proposed by former Denver Nuggets' owner Red McCombs, founder of Clear Channel Communications.
A plan calling for a large commercial and residential development is currently tied up in litigation. The Pitcher family, owners of Wolf Creek, object to the scale of the project, but insist it won't change how they do business.
"We're a separate entity and we're going to stay our course," said Davey Pitcher. "If and when they start to build, which is unclear to everybody, including the Forest Service, what they really intend to do, we aren't going to quit catering to the people who have made us successful."
Back down the pass in South Fork, where the Arbor House sees far more fishermen and golfers in the summer than skiers in the winter, Keith and Laurie Bratton, who both grew up in the area but haven't skied in years, view the village proposal and other development as inevitable.
"There will be a different type of person who starts coming here," Keith Bratton said. "Right now, Wolf Creek is a family, budget-oriented type of resort. It's more destination and there are all these groups that come in and that may become unaffordable at one point. Who knows?
"Growth is going to happen. You're either growing or you're decreasing. Very few towns stay the same."
If you go
What: Wolf Creek Ski Area
Who: Run by Davey Pitcher, son of ski-industry legend Kingsbury Pitcher, Wolf Creek is one of the state's few remaining family-owned operations.
Where: 244 miles southwest of Denver in the southern San Juan Mountains.
When: Late-summer monsoonal flow can dump 3 to 7 feet on the mountain in October, making it one of the best early-season options most years. And 465 inches (most in the state) throughout the season makes it a good bet most other times as well.
Why: Its 1,600 acres of relatively high terrain (between 10,300 and 11,900 feet) feature plenty of short, steep drops and nice tree shots, and very small crowds mean the snow holds up much longer than ski areas closer to Denver.
Info: Go to
www.wolfcreekski.com
or call (970) 264-5639.
Cost: Full-day adult tickets are $45.
Where to stay: Arbor House Inn bed and breakfast in South Fork is a charming, remodeled home on the banks of the South Fork of the Rio Grande River 17 miles east of Wolf Creek. For skiers, the breakfast alone is worth the price of admission. Rooms range between $99 and $149. Call 888-830-4642 or go to
www.arborhouseinnco.com
.
---

238 Comments on "Great early conditions at Vail, Beaver Creek, but be careful in the trees, backcountry"