Snowstorm nails Vail, boosts expectations for available ski terrain on opening day Friday
When I went to bed around 1 a.m. Monday, it was only lightly snowing in West Vail. When I got up around 6:30 a.m., it was absolutely dumping, with five inches or more already on my deck.
After a slow weekend of meandering snowfall, the heavens really opened up, and by the time I dropped my youngest son off at daycare around 9:30 a.m. and shot the below video at Vail's Golden Peak area, it had already dropped another couple of inches.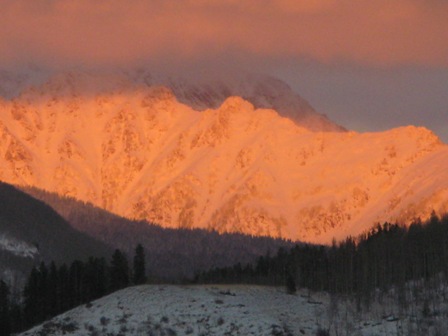 Even my plow guy was caught off-guard since it was mostly sunny down-valley in Eagle and Edwards. My driveway was an adventure on the first official day of plowing.
But these are good problems to have four days before Vail's official opening on Friday, Nov. 19. A spokeswoman for Vail Resorts just emailed that she'll have some sort of announcement regarding how much terrain will be opening, and I'll post that as a news story as soon as it comes in.
I'm going to go out on a limb here, though, and promise significantly more trails and lifts than just Born Free and Chair 8. I'm also going to go out on a limb here and promise our media hub will be ready in the next day or two, including a full Colorado snow and ski condition report and a similar report built specifically for Vail Resorts' six mountains (including two in California).
We'll have other useful information in the hub, including Reid Griebling's popular Powder Predictor blog and a home for video like this one I shot at Golden Peak this morning (only much, much better).
Ski racers were already heading up the hill when I was there this morning, although crews had yet to do the evil deed of clearing away all that powder for the water-injected, ice-hard race course underneath. And the big guns of the team are on their way back for more training after a World Cup over the weekend in Finland.
They may be surprised at just how many more training lanes are available after the last week of steady snow. Vail/Beaver Creek and the rest of the state's resorts are headed for what could be a record-setting Thanksgiving in terms of available terrain.
Winter Park is next to open on Wednesday, Nov. 17, followed by Vail and Eldora on Friday. That will give us nine resorts up and running. Beaver Creek opens a week from Wednesday, the day before Thanksgiving on Nov. 24.
Let's hope the snow gods keep smiling on us.


---

391 Comments on "Snowstorm nails Vail, boosts expectations for available ski terrain on opening day Friday"