New Breckenridge alpine coaster a blast for the kids after (or during) a day on the slopes
BRECKENRIDGE -- Dreaming of a white Thanksgiving can be a bit hit-or-miss in Colorado. Some ski seasons it can be quite good in late November; others it can be dry as a bone. This particular season is starting to shape up as a very respectable Turkey Day given the slow but steady snowfall sifting out of the sky above the central Rockies of Colorado.
Editor's note: Since this was written and posted Sunday evening, Vail received at least six inches of new snow overnight and it was still snowing as of 7 a.m. Monday, Nov. 15
.
I headed out with the family for our first official ski day of the 2010-11 season on Saturday, and the turns at Breckenridge were really good for this time of year. It was only the second day of the season for Breck, but already far more than the obligatory white ribbon was open for snow riders.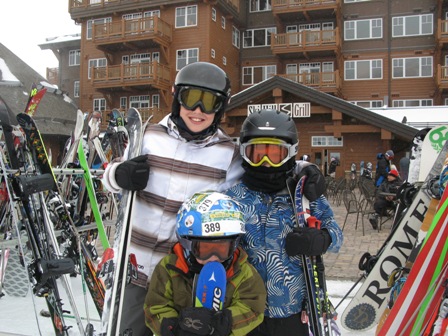 With light snow drifting down all weekend, Breck has 22 of 155 trails open and six of 31 lifts. Three inches of new snow fell over the weekend for a total of 20 inches in the past week, bringing Breck's settled base to 28 inches already. A total of nearly five feet (60 inches) of snow has fallen there so far this fall, making it one of the better starts to the ski season in recent memory.
Breck's opening Friday brought the number of operating resorts in the state to six, with Winter Park next up on Wednesday, Nov. 17. Vail opens Friday, Nov. 19, and rest assured, while no official announcements have been made, there should be quite a bit more terrain than just the usual Born Free trail in Lionshead.
That's because even though the snowfall has been light (as predicted by our
Powder Predictor blog on Friday
), the temps have been chilly – perfect for snowmaking.
U.S. Ski Team athletes returning from Levi, Finland, for more early-season training in Colorado will find much more terrain to train on at Vail's Golden Peak. And Beaver Creek crews have been able to get a great jump on the Birds of Prey course, where the top men's ski racers in the world will compete Dec. 3-5.
If you pay attention to no other competitive winter sports this season (after all, the next Winter Olympics aren't for another three years in Sochi, Russia), come check out Bode Miller in what could be his last hurrah on one of the toughest downhills on the circuit – a place where he's had great success. The Beaver Creek races are free and open to the public, which is not something you hear a lot in the ski world.
For instance, it's a bit pricey, but well worth shelling out a few extra bucks to hit the new alpine coaster at Breck this season. Much more than a mere alpine slide (Breck has one of those too, but only in the summer), the alpine coaster is an actual cart-like sled you sit in and fly down rails over a course that's nearly a half mile long.
You drop through the trees, twist, turn, hit some jumps, and if you push forward fully on both levers (pulling back hits' the brakes), you can get up some fairly decent speed – enough to give the kids a thrill (even the big ones).
I've taken my kids down to the alpine coaster atop the gondola at the Glenwood Caverns in Glenwood Springs quite a bit, and they love that one. But there's an added dimension with snow flying, skiers riding chairlifts nearby and snowcapped peaks all around. Check out the below video from Saturday for a better sense of what I'm talking about.
All in all, a really good first day out. Breck ski area has a lot going on this season with the addition of its new RockResorts property at
One Ski Hill Place
at the base of Peak 8 (also the location of the alpine coaster), so if you haven't been in a while, definitely check it out. And Breckenridge itself has always been one of my favorite ski towns in Colorado.
---

860 Comments on "New Breckenridge alpine coaster a blast for the kids after (or during) a day on the slopes"