Demise of Denver Broncos frees up Sundays to ski just in time for winter storm, Loveland opening
It seems a bit pointless to pile on what will no doubt be a verbal and written lynching of Denver Broncos coach Josh McDaniels after a horrific and record-setting 59-14 loss to the lowly Oakland Raiders today, but I have to offer a few reasons why I'm actually glad Boy Blunder has so thoroughly embarrassed a once-proud NFL franchise.
First off, I can only hope it speeds up his inevitable firing. Wade Phillips was only given two seasons at the helm of the Broncos, and I attended a god-awful home loss to the hated Raiders that drove in the final stake for Phillips, who clearly hasn't learned much since that forgettable first stint as a head coach. He seems destined for the same scrapheap in Dallas.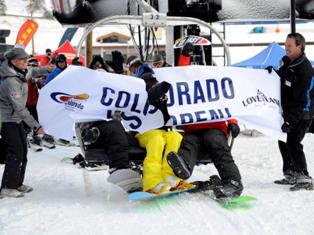 McDaniels has been right about one thing and one thing only since he inexplicably took over from Mike Shanahan before last season (does he have compromising photos of Broncos owner Pat Bowlen or what?). McDaniels was spot-on in his assessment of former Broncos quarterback Jay "Fling off My Back Foot" Cutler, who tossed four picks to DeAngelo Hall in a Chicago Bears loss to Shanahan and his Washington Redskins Sunday.
Other than running Cutler out of town, everything else McDaniels has touched has transformed the team from a rising and reloading squad only a decade removed from back-to-back Super Bowl wins into a cellar-dwelling laughingstock. We are left to look back with nostalgia to the 8-8 mediocrity of last season and Shanahan's 8-8 last season before that.
Hopefully, today's debacle hastens McDaniels' departure so we can begin returning to respectability. Josh can drive off into the orange-and-blue sunset with University of Colorado coach Dan Hawkins and Carmelo Anthony of the Denver Nuggets. All three are losers who will never lead their respective squads to the ultimate prize. These are dark days for Colorado sports fans, so the sooner we move on the better.
Besides the scrappy and overachieving Colorado Avalanche, there's really nothing to get excited about until spring training for the Rockies in late February in Phoenix. In the meantime, might as well ski.
The other upside of Sunday's annihilation at the hands of the Raiders is that we should expect no more than a 5-11 or maybe 6-10 season from these Broncos, so why bother going to Invesco to suffer through such ineptitude, or even check it out on TV.
With Loveland and Arapahoe Basin now open for the 2010-11 ski season, and a slew of other resorts set to come online starting in early November, we will have our Sundays free to ski.
In fact, a foot of snow is supposed to start falling around 3 a.m. Monday, so why not beat the Monday Bronco Blues by playing hooky and skiing to start the work week? It's got to be better than reliving in your mind the horror of Darren McFadden running over Perrish Cox like Timmy Smith trampling Tony Lilly in the 1987 Super Bowl.

---

407 Comments on "Demise of Denver Broncos frees up Sundays to ski just in time for winter storm, Loveland opening"