What I did for my summer vacation: 4,450-mile road trip from Colorado to Glacier to Redwood and back again
Four thousand, four hundred and fifty miles. Eight states. Two provinces. Two countries. One epic summer of 2013 road trip with my boys. One very cool wife. Priceless.
Sitting around a campfire on a muddy coastal island in Washington state, pretending to eat live banana slugs: Equally priceless.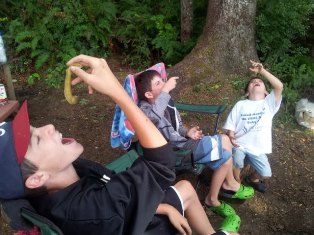 Yes, after talking about it for many years, I finally pulled the trigger on a car-camping odyssey up through Wyoming, Montana, Alberta and British Columbia, then down through Washington, Oregon and northern California, and finally back through Nevada and Utah.
It was a huge and overly ambitious loop that took 22 days and included many memorable stops. Here's the quick rundown:
My wife Kristin and I started out with our sons Nick, Max and Rennick on July 26 in Denver and drove to our friend's cabin on East Rosebud Lake near Red Lodge, Mont. We spent four nights there, learning to fly fish, hiking something like 25 miles in the Absoroka-Beartooth Wilderness and generally having an amazingly good time.
On July 30 the boys and I dropped Kris at the Bozeman airport and camped our way to Glacier National Park (feasting on beenie-weenie burritos the whole way). For some reason, Kris decided to pass on this part of the journey, flying back to work in Broomfield and Eagle County, Colo.
The boys and I stayed in Glacier's Fish Creek Campground and took an icy plunge in the long, frigid but very beautiful Lake McDonald. Then on Aug. 1 we crossed the park on the incredible Going to the Sun Road and drove into Alberta, Canada in the adjacent Waterton Provincial Park.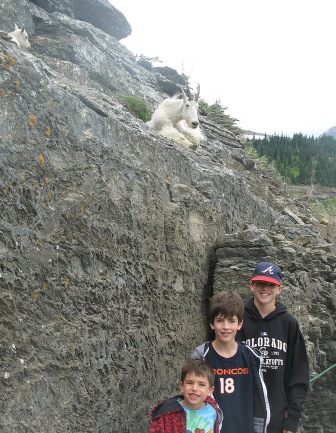 We then drove across southern British Columbia, staying one night in scenic Trail, BC, and arrived at my sister's house in Bellingham, Wash., on Aug. 2. The boys and I spent a week in B-ham, hanging out at all the great lakes and beaches nearby, gathering blueberries, crossing to Lummi Island by ferry and hiking and mostly relaxing and having a great time.
Our favorite lake for both swimming and sailing was Lake Whatcom, and our favorite places for bagels, ice cream and books were The Bagelry, Mallards and Hendersons (all downtown). Such a cool city. Be sure to check out Chuckanut Drive and hike down to Clayton Beach.
It was back on the road Aug. 9 to Ocean Park on the Long Beach Peninsula at the very southwestern tip of Washington (just north of the mouth of the Columbia River). There a friend took us by zodiac boat over to Long Island, where we were the only campers for the next two days and nights at the truly unbelievable Willapa Bay National Wildlife Refuge campground.
We collected and ate fresh oysters, clams, played with salamanders and the aforementioned banana slugs, and hiked to the Don Bonker Cedar Grove (a miniature and absolutely deserted version of Redwood National Park). We also saw pelicans, bald eagle, great blue herons and lots of signs of both bear and elk living on the 13-mile-long, heavily wooded island.
On Aug. 11, after a quick stop at Cape Disappointment, we headed to our friend's house in Oregon City south of Portland, where we did laundry and picked Kristin up at the airport on Aug. 12.
We celebrated Max's 10th birthday by going to the Enchanted Forest Amusement Park near Salem and then had a clam, oyster and halibut feast. Many bottles of fine Willamette Valley wine were drained that night by the adults. Max gorged on fresh blueberry and apple pie.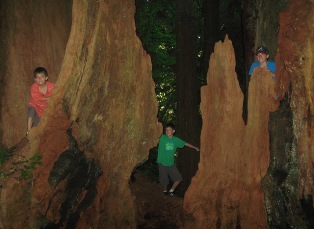 The family finally back together, we headed out on Aug. 13 down the Oregon coast with many hiking, exploring and beach combing stops along the way and camped that night at Humbug Mountain State Park near Port Orford. If you go, be sure to check out Griff's On the Dock for an extremely fresh, highly authentic and a bit edgy experience in the midst of all the commercial fishing action. It's awesome.
The next day we drove to Redwood National Park in far northern California and camped another night at Prairie Creek Redwoods State Park. The hikes in and around the campground are awe-inspiring, to say the least. Our favorite was the Cathedral Trees Trail.
Very dirty and tired we then drove through the day and night of Aug. 14 (Eureka to Redding takes forever with summer road construction!) to Reno and then finally Elko, Nev (highly recommend the Holiday Inn Express there).
Finally, a slightly more reasonable travel day on Aug. 15 brought us to the Grand Summit Hotel at the Canyons Resort (newly acquired by Vail Resorts) near Park City, where we had an awesome capper to our trip, dining on Thai food (Bangkok Thai in Park City), zip lining at the Canyons and hanging by the pool at the Summit. Aug. 17 we blasted back with one stop in Grand Junction for school shopping.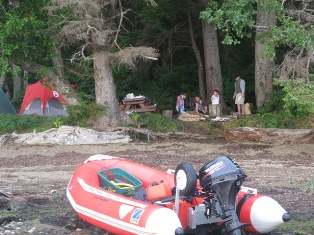 Now it's back to school and reality this week. What a great adventure. Thanks again to everyone for helping make it happen and for cheering us on, and sorry to let the sites languish a bit. My connectivity wasn't very good for three weeks ... which felt really good.
---

28 Comments on "What I did for my summer vacation: 4,450-mile road trip from Colorado to Glacier to Redwood and back again"