Colorado moose population steadily rising
Colorado, despite its lush stretches of mountain meadows, is essentially a high-alpine desert. So it's odd to think that moose are proliferating here even as their numbers dwindle in surrounding states.
According to Colorado Parks and Wildlife, the largest member of the deer family – reaching weights of up to 1,100 pounds – now number about 1,700 in the Centennial State. That's astonishing considering they were just reintroduced in the North Park area in 1979.
More were relocated closer to Aspen and Vail when wildlife officials transplanted between 15 and 20 of the animals to the nearby Flat Tops Wilderness in 2008. Just two years before that several Utah moose had also been reintroduced to the Grand Mesa National Forest near Grand Junction.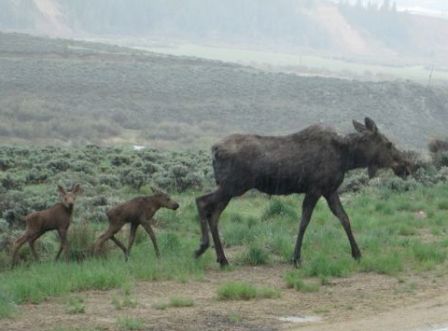 It's likely that any moose spotted in the Roaring Fork Valley have wandered down from the Flat Tops or Grand Mesa. Moose from North Park have steadily moved south into Middle Park and South Park since the 1980s. Some of those animals likely have made it over the Gore Range into the Vail Valley. Moose sighting aren't uncommon now in both the Vail and Aspen areas.
According to a recent Denver Post article, Colorado's moose population may be as high as 2,300, which has prompted Colorado Parks and Wildlife officials to more closely study the animals to try to understand their runaway success in the state.
As their numbers increase, conflicts with Colorado's ever-growing human population seem inevitable. The massive animals have bad eyesight and can be quite testy when confronted by perceived enemies, especially cows guarding calves.
Pictured here, a mama moose shows two young calves the ways of the world in the Ranch Creek Valley near Tabernash last week. The two young ones had likely just been added to the state's booming moose population earlier in the week.
Wildlife officials warn people to keep their distance and run if confronted by an angry moose. If charged, try to get behind a large object like a boulder or even a car. They can't see well and will likely lose interest and wander off.
Best to just to stay away in the first place, because being trampled is a distinct possibility. In Alaska, for example, moose are reportedly more dangerous for humans than bears, simply because of the size of that state's moose population.
---

38 Comments on "Colorado moose population steadily rising"